Saudi Eateries Blamed For Monkey Infestation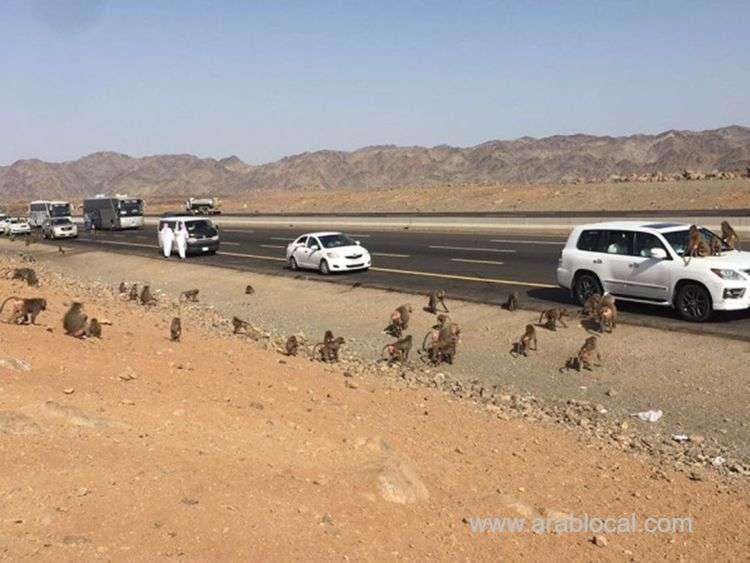 Food thrown away by restaurants in a Saudi area inhabited by monkeys has drawn the animals to a nearby route, a wildlife official has said.
The monkeys have been seen roaming on the major road adjoining Al Farea Valley in the region of Medina amid warnings from authorities to the public.
"Presence of the monkeys in the area is a natural extension of their geographical distribution," Bandr Al Faleh, the spokesman for the Saudi Wildlife Authority, a governmental agency, told Okaz newspaper. "The problem started to emerge with the spread of restaurants on the road and their dumping of food waste. The problem has worsened by passengers' habit to stop and offer food for them [the monkeys]," he added.
The official cited coordination with authorities in Medina to ensure proper disposal of food waste and stop passersby from offering food to the monkeys.
The National Centre for Wildlife Development and the Environment Ministry are working on projects to limit the dangers resulting from the monkey proliferation in the area, Al Faleh said without disclosing details.
SOURCE : GULF NEWS
Follow us on Facebook and Instagram
For Saudi Arabia Business Directory
For Saudi Arabia Latest News
For Saudi Arabia Daily Exchange Rates
For Saudi Arabia Daily Gold Rates
For Saudi Arabia Latest Offers