Non-Saudis Coming To Saudi Arabia Must Register Their Vaccination Status Online Before Arrival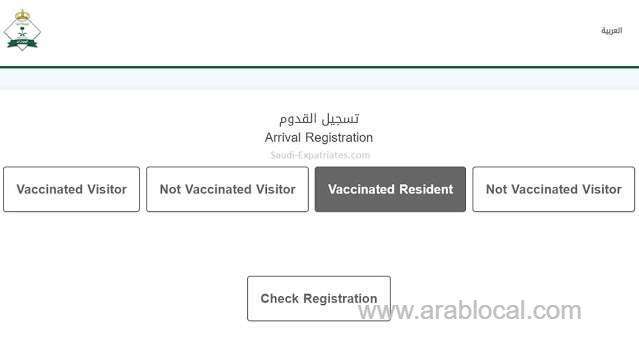 All expatriates and visitors coming to Saudi Arabia must need to register their Covid-19 vaccination status online before their arrival to Kingdom announced the General Directorate of Passports (Saudi Jawazat).
The Jawazat in Saudi Arabia said that online registration of vaccination status of foreign nationals will help in speed up the immigration procedures and reduce the waiting time for passengers at entry ports of the Kingdom.
- The registration applies to all the citizens of the Gulf Cooperation Council (GCC) states and other countries, holders of all kinds of new visas, resident expatriates and their companions, whether they are vaccinated or not.
- This comes in line with the efforts made by the Kingdom to limit the spread of the Coronavirus (Covid-19) to ensure the safety of its Saudi citizens and resident expatriates, with the need to stick to the precautionary and preventive measures while completing entry procedures.
- All those who are coming to Saudi Arabia except the citizens must need to register in any of the following suitable categories.
SOURCE : SAUDI EXPATRIATES
Follow us on Facebook and Instagram
For Saudi Arabia Business Directory
For Saudi Arabia Latest News
For Saudi Arabia Daily Exchange Rates
For Saudi Arabia Daily Gold Rates
For Saudi Arabia Latest Offers