Saudi Arabia Warns Against Traveling To 13 Countries Without Prior Permission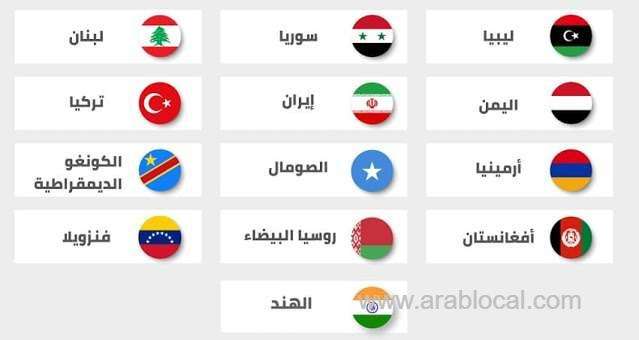 The Ministry of Interior in Saudi Arabia announced that citizens will continue to be prohibited from traveling, either directly or through another country, to the following countries without prior permission from the concerned authorities.
The 13 countries prohibited to travel to are
1. Libya
2. Syria
3. Lebanon
4. Yemen
5. Iran
6. Turkey
7. Armenia
8. Somalia
9. The Democratic Republic of the Congo
10. Afghanistan
11. Venezuela
12. Belarus
13. India and
Any other countries in which the pandemic has not yet been controlled. Or it is proven that the mutated strain of the virus has spread in it.
- This comes as a supplement to the statement issued on January 13, 2021, regarding the warning against travel to a number of countries, and in the Kingdom's concern for the safety and security of citizens wishing to travel abroad, as the international flights resumes starting from first hour in the morning of 17th May, and in light of the security conditions and instability prevailing in a number of countries, and the continuing outbreak of the Corona pande
- The Ministry of Interior called on citizens wishing to travel to the countries to which travel is permitted to be cautious and to stay away from areas where instability prevails or witnesses the spread of the virus, and to follow all precautionary measures, regardless of their destination.
SOURCE : SAUDI EXPATRIATES
Follow us on Facebook and Instagram
For Saudi Arabia Business Directory
For Saudi Arabia Latest News
For Saudi Arabia Daily Exchange Rates
For Saudi Arabia Daily Gold Rates
For Saudi Arabia Latest Offers