Saudi Arabia Coronavirus : Total Cases :190,823 , New Cases : 4,387 , Cured : 130,766 , Deaths: 1,649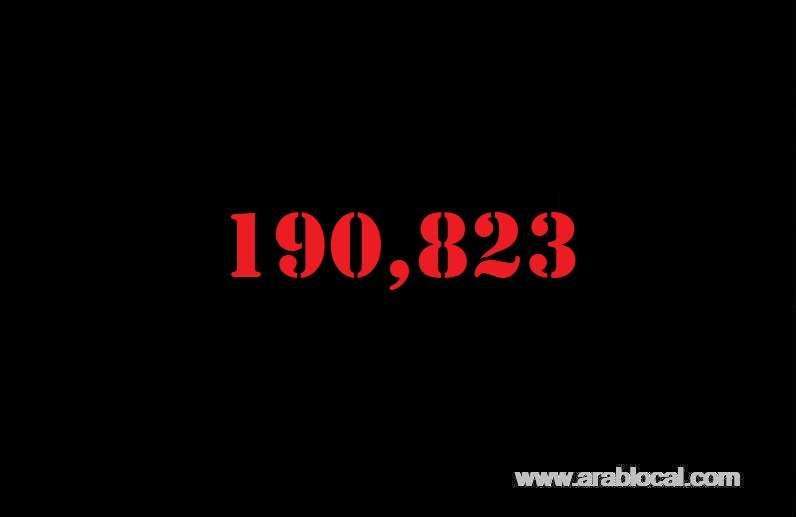 Saudi Arabia's Ministry of Health announces 4387 new cases, 3648 newly cured and 50 new deaths in the last 24 hours by 30th June 2020, with 2278 critical cases in various hospital's Intensive care units, All the registered and infected cases are isolated, the Total Corona cases in Saudi Arabia by Today are as follows
Infections : 190,823
Recovered : 130,766
Deaths : 1,649
Active Cases : 58,408
Critical : 2,278
Today, The Highest number of Corona infections recorded in Al Hafouf with 980 cases, The number of active cases in the Hafouf city has increased to 3,712, while the 2nd highest is 342 cases which is in Riyadh and the total active cases reached 11,070.
More than 1.6 million testings performed in Saudi Arabia by Today 1,639,314 for Corona virus, The infections has been reached to 195 cities of the Kingdom. Total Recoveries in Saudi Arabia reached to 130,766.
The Health Ministry reports -7 new critical cases Today, Making total critical to 2278. Today, 50 deaths are the highest recorded in a day in Kingdom due to corona virus, total reached 1649.
Riyadh tops in recoveries with 486 cases in 24 hours, followed by Al Hufof with 478 recoveries. The number of testings performed on the new cases for Corona virus in Saudi Arabia, Today its 48,173.
Globally, The number of Coronavirus (Covid-19) cases details by 30th June 2020 are as follows
Infections : 10,154,980
Recoveries : 5,147,436
Deaths : 502,048
The number of Active cases (Excluding Recoveries and Deaths) in the Kingdom of Saudi Arabia by Today (30th Jun 2020) are as Follows.
AR RIYAD: 11,070
MAKKAH al MUKARRAMAH: 5,418
Ad Dammam: 5,366
Jeddah: 4,016
Al Hufuf: 3,712
Al Qatif: 3,162
At Ta'if: 2,559
Al Khubar: 2,535
Khamis Mushayt: 1,776
AL MADINAH al MUNAWWARAH: 1,770
Al Mubarraz: 1,587
ABHA: 1,256
AD͟h D͟hahran: 1,103
Al Jubayl: 907
BURAYDAH: 836
HA'IL: 822
Safwá: 816
Hafar al Batin: 749
NAJRAN: 611
Wadi Ad Dawasir: 415
ʻUnayzah: 323
Mahayil: 322
Bishah: 302
Al Kharj: 273
Ras Tannurah: 271
Ar Rass: 241
Buqayq: 241
Ad Dirʻiyyah: 222
Ahad Rifaydah: 194
Yanbuʻ: 176
Al Bukayriyyah: 154
Sharurah: 151
An Namas: 136
TABUK: 129
Al Muzahimiyyah: 127
An Nuʻayriyyah: 123
JAZAN: 122
Al Midhnab: 111
Al ʻUyun: 109
Al Jafr: 109
Qaryat Al 'ulya: 105
Al Khafji: 98
Baysh: 90
Khulays: 88
Hawtat Bani Tamim: 88
Samtah: 85
Al Asyah: 83
Al Harajah: 80
Al Majmaʻah: 80
Rafa'i' Al Jamsh: 79
Ranyah: 78
Al Bada'iʻ: 68
Rijal Al Ma: 68
Sarat ʻAbidah: 67
AL BAHAH: 66
Wadi Ibn Hashbal: 66
Rumah: 66
Rabigh: 64
Al Maddah: 62
Ar Ruwaydah: 61
ʻUyun al Jiwa': 61
D͟hahran al Janub: 60
Sajir: 59
Sabya: 58
Abu ʻArish: 57
Thadiq: 56
Billasmar: 56
Huraymila': 55
Al Majardah: 54
Sabt al ʻAlayah: 53
Al Bashayer: 51
Mulayjah: 49
Riyad al Khabra': 49
SIKAKA: 47
Tathlith: 46
Hawtat Sudayr: 45
As Sulayyil: 45
Al Mikhwah: 40
Salwá: 39
Al Sehen: 39
Mihd adh Dhahab: 38
Thurayban: 37
Dariyyah: 36
Al Qunfudhah: 35
Biljurashi: 35
ʻUrayʻirah: 34
An Nabhaniyyah: 34
Tanumah: 32
Tabalah: 32
Qiya: 32
Al Lith: 31
Bariq: 29
ʻAfif: 29
Al Ha'it: 29
Batha': 26
Ad Dilam: 26
Ad Duwadimi: 26
Duruma: 26
Al Mandaq: 25
Turuba: 25
Wuthaylan: 25
Ad Darb: 24
Az Zulfi: 24
Al Khurmah: 24
Al ʻUla: 24
Tumayr: 24
Umm Ad Dawm: 24
Al ʻIdabi: 23
Hubuna: 22
D͟halm: 22
Al ʻAridah: 21
Baqʻa': 20
Al Quwayʻiyyah: 20
Al Hinakiyyah: 19
Al Muwayh: 19
Qilwah: 19
Ash Shinan: 18
Rafha: 18
Al Qari': 18
Al Qaysumah: 17
Ahad al Musarihah: 17
Shaqra': 17
Qusayba': 16
Yadamah: 16
Laylá: 16
Al Mud͟haylif: 16
Al Qara: 16
Ash Shamli: 15
Al GhAzalah: 15
Nifi: 15
Ar Rayn: 14
Al Mahani: 14
Wadi Al Fara: 14
At Tuwal: 13
Al Quwarah: 12
ʻARʻAR: 12
Al Qahmah: 12
Al Bijadiyyah: 12
Khaybar: 11
Tabarjal: 11
Al Gouz: 10
Adam: 10
Mawqaq: 8
Badr al Janub: 8
Al Kamil: 8
Al ʻUwayqilah: 8
Umlujj: 8
Duba: 8
Al Harth: 8
Al Muwassam: 7
Farasan: 7
Thar: 7
Al Khasirah: 7
Numarah: 7
Al Badʻ: 7
Khubash: 6
ʻUqlat as Suqur: 6
Dawmat al Jandal: 6
Al Farshah: 6
Al Wajh: 5
Marat: 5
Sayhat: 5
Ad Da'ir: 3
Samudah: 3
Al Qurayyat: 3
Al Hariq: 3
Al ʻAqiq: 3
Fayfa: 3
Al Sho'bah: 2
Hazm al Jalamid: 2
Al ʻIs: 2
Damad: 2
Al Hamnah: 2
Hadad Bani Malik: 1
Mayquʻ: 1
Adh Dhibiyyah: 1
Ar Ruqʻi: 1
Turayf: 1
As Suʻayyirah: 1
Al Artawiyyah: 1
Badr: 1
Tayma': 1
Haql: 1
Al Hadithah Border Station: 1
Ar Rayth: 1
Maysan: 1
Al Hada: 1