Securityman In Hit-and-run Jeddah Incident Dies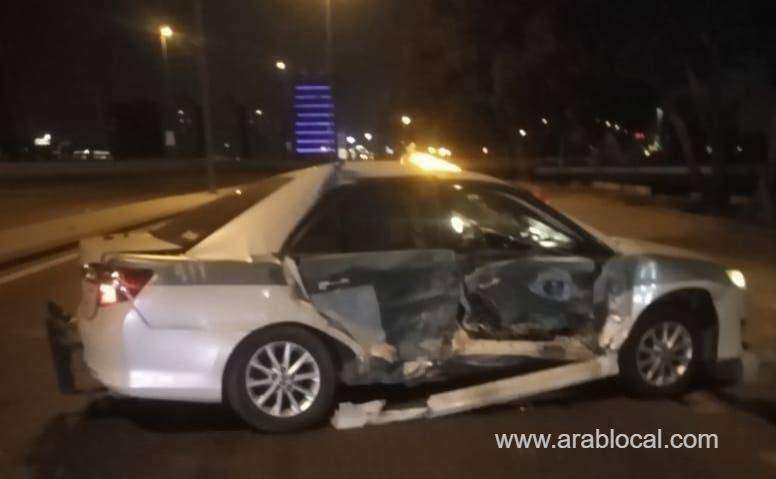 A security man, run over by a speeding motorist who ignored traffic police orders to stop, has died, spokesman of Makkah Region Police Maj. Muhammad Abdulwahab Al-Ghamdi said here on Monday.
The alleged hit-and-run motorist has been arrested, Saudi Press Agency (SPA) quoted the spokesman as saying.
The speeding motorist, a Saudi in his 20s, has been taken into custody.
The motorist allegedly bumped into a security checkpoint on Haramain Road, in eastern Jeddah on Sunday evening and ran over the security man grievously injuring him. He later fled the scene ignoring police orders to halt. The police gave him a chase and nabbed him after the driver lost control of the vehicle.
Authorities are expected to refer the dossier of the hit-and-run incident to the Public Prosecution. The man will also be referred to the medical authorities for his check up.
In another incident, a motorist driving at a high speed rammed his car into a traffic police vehicle Saturday evening at a checkpoint on Al-Falah Road in southern Jeddah. After the incident, the motorist sped away refusing to stop as ordered by security personnel. A traffic policeman sustained minor injuries in the incident, the spokesman said in a separate statement.
The motorist, a Saudi in his 20s, was finally arrested after a chase and has been taken into custody along with two people accompanying him – a Saudi man and a woman.
SOURCE : SAUDI GAZETTE