IQAMA FEES FOR SAUDI ARABIA IN 2020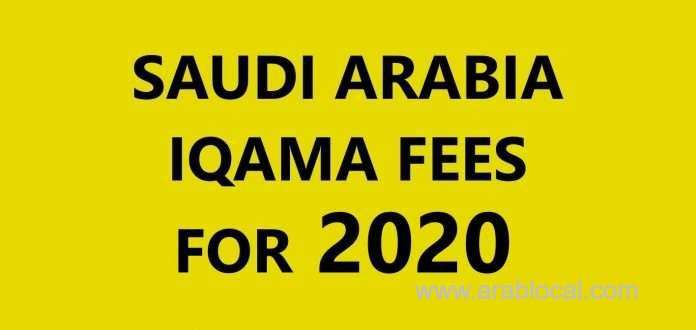 Iqama is the residence permit for expats in Saudi Arabia .Iqama renewal is necessary every year it is done online every year. certain payments are required for Iqama Renewal like work permit fees, MOI Iqama fees, and health insurance payments. If an expatriate is having family members in his sponsorship, he must have paid the dependent levy to get renewed Iqama. Based on earlier official statements, the following are the Iqama Renewal fees for 2020.
Exempted Iqama Fees
House drivers,domestic workers,home makers are exempted from work permit fees.

Small establishments with five or fewer employees are also exempt from work permit fees if the owner of the firm registered himself as a worker.

Expatriates working in the industrial sector (Factory workers) will also be exempt from the work permit levy for the next five years.

Levy Exemption for three months on corona virus outbreak:The Saudi government has announced an exemption from the expat levy for those whose Iqama has expired between 20 March to 30 march 2020.This Exemption is not valid for those whose iqama had expired before 20 march 2020.

Categories To Pay Iqama Fees For 2020(1441)

If your company or establishment's 50 percent or more employees are Saudi nationals, Iqama Description Fee In SAR will be as follows

Work Permit Fees (SR 700 / Month) 8,400.00

MOI Iqama Fees

650.00

Health Insurance (Average)

450.00

Total 9,500.00

If your company has more than 50 percent of the employes are expatriates then the Iqama fees will be,

Maktab Amal Fees (SR 800 / Month) 9,600.00

MOI Iqama Fees

650.00

Health Insurance (Average)

450.00

Total 10,700.00

Note:- The above figures are estimates and may vary with the actual. The work permit fee calculation is on the basis of Iqama renewal from January 01 to December 31st.

EXPAT DEPENDENT LEVY

All expats who are sponsoring dependents in Saudi Arabia will have to pay a monthly fee of SR 300 (currently) per dependent and this fee is likely to increase to SR 400 upon July 2020.

IQAMA EXPIRY PENALTY

If your Iqama expires, there will be a penalty of SR 500 for the first time and SR 1000 for the second time on failing to renew the Iqama.

IQAMA RENEWAL IS THE EMPLOYER'S RESPONSIBILITY

The employer is responsible for renewing his workers Iqama. As per Article 40 (1) of the Saudi Labour Law, it is the responsibility of the employer to pay for the iqama renewal and iqama issuance fee. As per Article 144 of the Saudi Labuor Law, it is the responsibility of the employer to provide health care and insurance to each employee.