Saudi Arabia Coronavirus : Total Cases :341,495, New Cases : 433, Cured : 327,795 , Deaths: 5,144, Active Cases : 8,556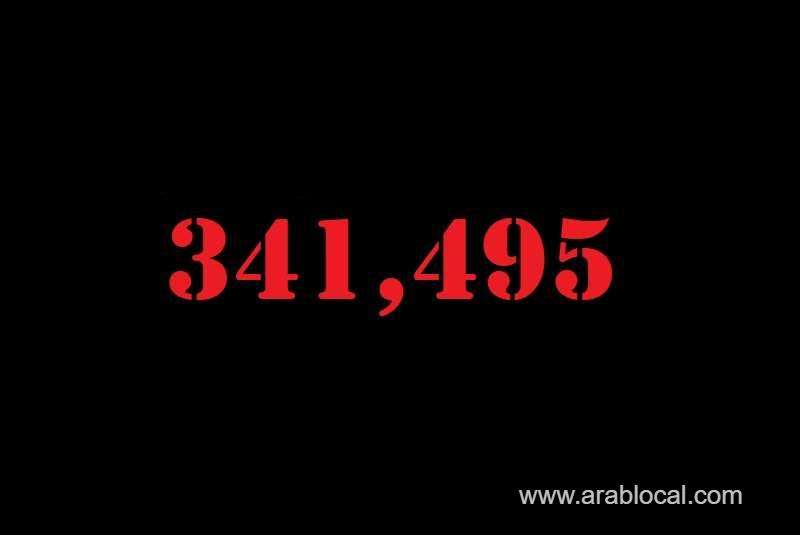 Saudi Arabia's Ministry of Health reports 433 new Corona cases, 468 new recoveries and 17 new deaths in the last 24 hours by 16th October 2020, while 835 cases of total infections are in critical condition and in Intensive cares, All the registered and infected persons are in isolation, the Total Corona infections in the Kingdom are as follows
Infections : 341,495
Recovered : 327,795
Deaths : 5,144
Active Cases : 8,556
Critical : 835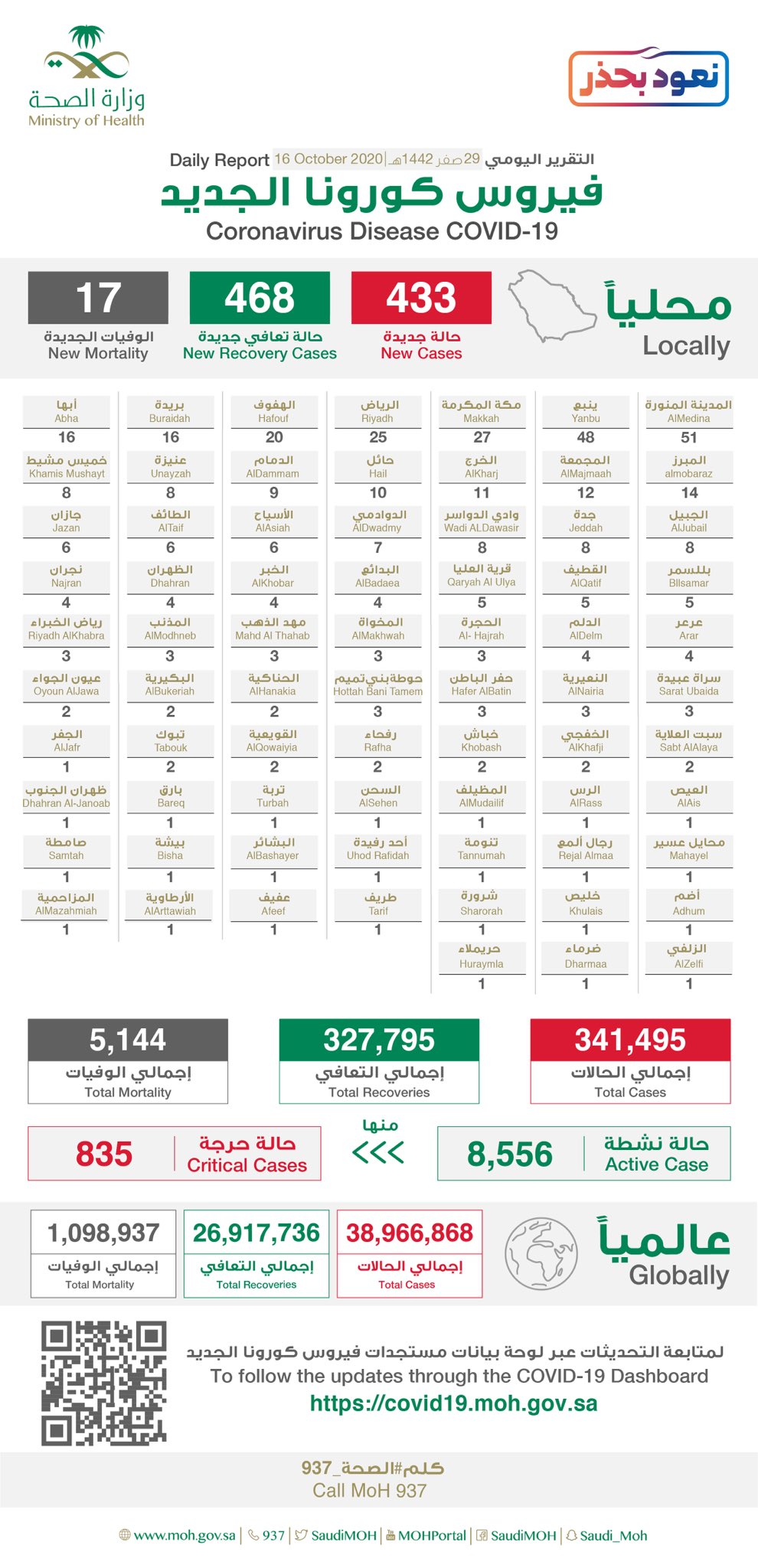 - Today,
The Highest number of Corona cases reported in Madina with 51 infections, Yanbu with 48 infections, while the 3rd highest is 27 cases in Makkah and Riyadh
with 25 cases
.
- Today, Madina tops in recoveries with 52 in 24 hours, followed by Yanbu with 48 recoveries, Makkah with 42 recoveries and Riyadh with 33 recoveries.

The number of tests performed on the new cases for Corona virus in Saudi Arabia, Today 53,032.
- The Ministry of Health reports 6 new critical cases in last 24 hours, Making total critical to 835. Today, 17 deaths recorded in a day in Kingdom due to corona virus, total reached 5,144.
- More than 7.2 million (
7,267,825
) tests performed in Saudi Arabia by Today for Corona virus, The infections has been spread to 206 cities of the Kingdom. Total Recoveries in Saudi Arabia reached to 327,795.
- Globally, more than 38 million cases of Covid-19 has been recorded,
by 16th October 2020 are
Infections : 38,966,868
Recoveries : 26,917,736
Deaths : 1,098,937
- The number of Active cases (Excluding Recoveries and Deaths) of Corona virus in the Kingdom of Saudi Arabia by Today 16th Oct 2020 are as Follows.
AR RIYAD: 874
Ad Dammam: 709
Al Hufuf: 699
AL MADINAH al MUNAWWARAH: 582
JAZAN: 386
Al Mubarraz: 371
MAKKAH al MUKARRAMAH: 347
HA'IL: 189
Yanbuʻ: 171
Al Qatif: 154
AD͟h D͟hahran: 150
ʻARʻAR: 146
Al Jubayl: 142
NAJRAN: 137
ʻUnayzah: 134
At Ta'if: 131
BURAYDAH: 119
Abu ʻArish: 117
Khaybar: 103
Khamis Mushayt: 99
Biljurashi: 98
Al Khubar: 88
Sabya: 71
Baysh: 69
Wadi Ad Dawasir: 66
Al Midhnab: 62
Jeddah: 58
Buqayq: 57
Ras Tannurah: 57
Rafha: 55
Samtah: 53
An Nuʻayriyyah: 53
Ahad al Musarihah: 51
Al Asyah: 50
Al Khafji: 49
Al Qunfudhah: 45
Billasmar: 45
Al ʻIdabi: 43
Al Mikhwah: 42
Al Bukayriyyah: 42
Qaryat Al 'ulya: 41
Sabt al ʻAlayah: 40
Safwá: 40
Ad Dilam: 38
Al Jafr: 38
Riyad al Khabra': 35
Al Kharj: 35
Khulays: 34
Al Khurmah: 30
Al Muzahimiyyah: 28
Al Mud͟haylif: 28
Al ʻAqiq: 27
ʻAfif: 26
Al Majmaʻah: 26
Al Bada'iʻ: 26
Fayfa: 26
ʻUyun al Jiwa': 25
Ar Rayth: 25
Duruma: 24
D͟hahran al Janub: 24
Bishah: 23
Mulayjah: 23
Al ʻUyun: 23
Ad Dirʻiyyah: 23
Al ʻUla: 22
ABHA: 20
Mihd adh Dhahab: 20
Huraymila': 20
Al Bashayer: 20
At Tuwal: 19
Al Lith: 19
Al Hajrah: 19
Baqʻa': 18
Al Mandaq: 17
Al Gouz: 17
Hawtat Bani Tamim: 17
Turuba: 17
Al ʻIs: 17
Bani Hasan: 17
Ahad Rifaydah: 16
Az Zulfi: 16
As Sulayyil: 16
Rafa'i' Al Jamsh: 15
Rijal Al Ma: 15
Thurayban: 15
Turayf: 14
Al Hinakiyyah: 14
Umlujj: 14
Ar Ruwaydah: 13
Ad Duwadimi: 13
Sharurah: 13
Sarat ʻAbidah: 12
Al Quwarah: 11
Al Harajah: 11
An Nabhaniyyah: 11
Shaqra': 11
Batha': 10
ʻUqlat as Suqur: 10
Ad Darb: 10
TABUK: 10
Numarah: 10
Tabalah: 10
Al Qaysumah: 10
Qilwah: 10
Bariq: 9
AL BAHAH: 9
Ar Rass: 9
Al Kamil: 9
Yadamah: 9
Hafar al Batin: 9
Al Qari': 9
Al Sho'bah: 8
Qusayba': 8
Al Muwayh: 8
Tathlith: 8
Damad: 8
Adam: 8
Ad Da'ir: 7
Mahayil: 7
Ash Shamli: 7
Dariyyah: 7
Al Artawiyyah: 7
Al ʻUwayqilah: 7
Al Qara: 7
Al Muwassam: 6
SIKAKA: 6
Al Qahmah: 6
Al Quwayʻiyyah: 6
Maysan: 6
Al Hamnah: 6
Sajir: 6
Mawqaq: 5
Al Birk: 5
Al ʻAridah: 5
Ranyah: 5
Qiya: 5
As Sulaymi: 5
An Namas: 5
Tumayr: 5
Al Harth: 5
Khubash: 4
Badr al Janub: 4
ʻUrayʻirah: 4
Al Bijadiyyah: 4
Al Hariq: 4
Laylá: 4
Al Hadithah Border Station: 4
Wadi Al Fara: 4
Al Sehen: 4
Tanumah: 3
Rabigh: 3
Al Qurayyat: 3
Nifi: 3
Thadiq: 3
Rumah: 3
Ar Rayn: 2
Samira': 2
Hubuna: 2
Al GhAzalah: 2
As Suʻayyirah: 2
D͟halm: 2
Al Majardah: 2
Al Wajh: 2
Duba: 2
Marat: 2
Salwá: 2
Wuthaylan: 2
Tarj: 2
Umm Ad Dawm: 2
Farasan: 1
Adh Dhibiyyah: 1
Ash Shinan: 1
Samudah: 1
Hawtat Sudayr: 1
Al Maddah: 1
Shuwaq: 1
Al Khasirah: 1
Al Mahani: 1
Al Ha'it: 1
Al Badʻ: 1
Suwayr: 1
Tayma': 1
Haql: 1
Dawmat al Jandal: 1
Al Farshah: 1