Saudi Arabia Coronavirus : Total Cases :201,801 , New Cases : 4,193 , Cured : 140,614 , Deaths: 1,802, Active Cases : 59,385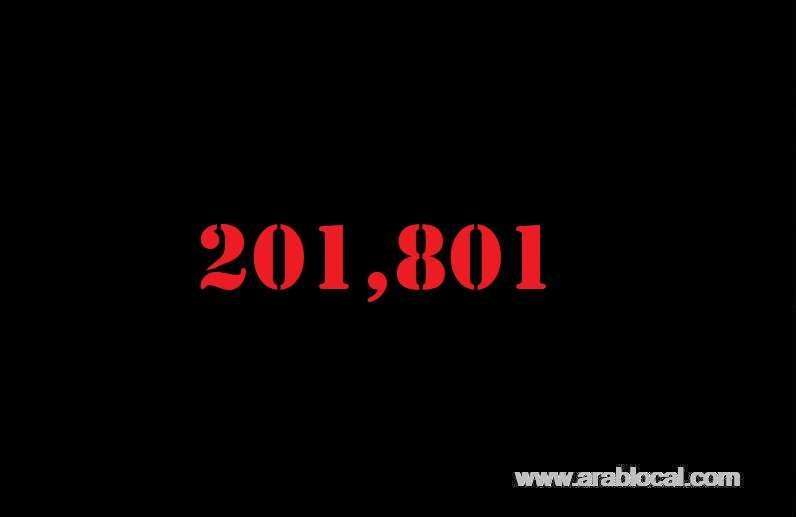 Covid 19 cases As Of July 3, 2020
Total Cases : 201,801
New Cases : 4,193
Cured : 140,614
Deaths : 1,802
Active Cases : 59,385

Coronavirus cases in Saudi Arabia surpassed the 200,000 mark on Friday after 4,193 new infections were detected in the last 24 hours, the Ministry of Health said.
Most of the cases were found in Dammam, where officials recorded 431 new cases. Al Hufof recorded 399 new infections, while Riyadh recorded 383. The rest of the new cases were reported in cities and provinces around the country.
Fifty people died due to COVID-19 on Friday. This brings the virus-related death toll in the Kingdom to 1,802.
Meanwhile, the number of recoveries rose to 140,614 after 2,945 people recovered from the coronavirus.
The health ministry spokesman on Thursday urged the public to adhere to precautionary measures to prevent the virus from spreading further.
If individuals must hold a gathering, whether it is for business purposes (conferences) or personal reasons (social gatherings, weddings, funerals), then all individuals must follow preventative measures at all times, Mohammed al-Abd al-Ali said.
A maximum of 50 people are allowed to attend one gathering, he added.
AR RIYAD: 47,433
Jeddah: 25,511
MAKKAH al MUKARRAMAH: 25,236
AL MADINAH al MUNAWWARAH: 14,129
Ad Dammam: 13,021
Al Hufuf: 11,739
At Ta'if: 6,013
Al Qatif: 5,678
Al Khubar: 5,572
Al Jubayl: 4,136
Al Mubarraz: 3,156
Khamis Mushayt: 3,066
AD͟h D͟hahran: 2,367
BURAYDAH: 2,229
ABHA: 2,044
HA'IL: 1,636
TABUK: 1,424
Ad Dirʻiyyah: 1,378
Hafar al Batin: 1,372
NAJRAN: 1,314
Safwá: 1,159
Baysh: 1,093
Al Kharj: 987
Yanbuʻ: 960
Wadi Ad Dawasir: 850
Mahayil: 738
Bishah: 655
ʻUnayzah: 655
Ras Tannurah: 619
Buqayq: 546
Al Muzahimiyyah: 510
Ahad Rifaydah: 458
JAZAN: 457
Al Jafr: 422
Sharurah: 379
Khulays: 364
Ar Rass: 347
Al Majmaʻah: 345
Al ʻUyun: 343
An Nuʻayriyyah: 294
Hawtat Bani Tamim: 290
An Namas: 260
AL BAHAH: 259
ʻARʻAR: 253
Sabya: 236
Al Bukayriyyah: 233
Huraymila': 225
Al Qunfudhah: 225
Al Khafji: 221
Al Midhnab: 200
Abu ʻArish: 197
Hadda: 196
Samtah: 185
Az Zulfi: 182
Al Majardah: 178
Sajir: 165
Duruma: 143
Qaryat Al 'ulya: 143
Rabigh: 139
SIKAKA: 134
Wadi Ibn Hashbal: 133
Al Bada'iʻ: 128
Ad Dilam: 127
Ar Ruwaydah: 126
Al Maddah: 125
Ranyah: 125
Al Mikhwah: 125
Rumah: 123
Thadiq: 121
Al Quwayʻiyyah: 120
Al Sehen: 120
Al Lith: 119
Biljurashi: 118
Sarat ʻAbidah: 116
ʻUyun al Jiwa': 114
Rijal Al Ma: 114
As Sulayyil: 112
Al Asyah: 108
Rafa'i' Al Jamsh: 108
Sabt al ʻAlayah: 108
ʻAfif: 106
D͟hahran al Janub: 106
Mihd adh Dhahab: 105
Al Harajah: 103
Billasmar: 103
Thurayban: 102
Hawtat Sudayr: 101
Al Bashayer: 98
Duba: 90
Riyad al Khabra': 88
Al ʻAridah: 85
Al ʻIdabi: 83
Al Mandaq: 83
Hazm al Jalamid: 82
Ad Darb: 80
Ad Duwadimi: 80
Al Khurmah: 79
Al Hada: 77
Laylá: 76
Tathlith: 75
Umlujj: 75
Shaqra': 74
Wadi Al Fara: 74
Ad Da'ir: 70
Salwá: 68
Tabalah: 66
Al Qari': 66
Mulayjah: 64
Rafha: 64
Al Mud͟haylif: 64
Al Qara: 64
Al Hinakiyyah: 63
Tanumah: 62
Wuthaylan: 62
Qiya: 61
Tumayr: 55
Al Muwayh: 54
Al Gouz: 53
Umm Ad Dawm: 52
Batha': 51
Judayyidat ʻarʻar: 51
Ar Rayn: 50
Yadamah: 50
D͟halm: 49
Turuba: 49
Baqʻa': 49
Qilwah: 47
An Nabhaniyyah: 46
Bariq: 45
ʻUrayʻirah: 44
Al Qurayyat: 43
Hubuna: 42
Dariyyah: 40
Al ʻUla: 40
Al Hadithah Border Station: 40
Al ʻAqiq: 39
Tabarjal: 37
Adam: 37
Numarah: 36
Ahad al Musarihah: 35
At Tuwal: 34
Al Kamil: 34
Al Ha'it: 34
Al Mahani: 31
Farasan: 30
Al Bijadiyyah: 29
Qusayba': 29
Marat: 28
Ash Shamli: 26
Khaybar: 26
Ash Shinan: 24
Al GhAzalah: 23
Al Wajh: 22
Badr al Janub: 21
Al ʻUwayqilah: 21
Al Badʻ: 20
Al Qaysumah: 19
Al Hariq: 19
Al Qahmah: 18
Nifi: 18
Al Khasirah: 17
Al Quwarah: 16
Thar: 16
Maysan: 16
Al ʻIs: 15
ʻUqlat as Suqur: 14
Dawmat al Jandal: 13
Al Harth: 13
Mawqaq: 12
Khubash: 12
Al Muwassam: 11
Damad: 9
Fayfa: 9
Al Farshah: 9
Al Artawiyyah: 8
Haql: 8
Sayhat: 8
Al Hadban: 8
Turayf: 7
Al Sho'bah: 6
Abu 'urwah: 6
Mayquʻ: 5
As Sulaymi: 5
Tayma': 5
Ar Rayth: 5
Samudah: 3
Shuwaq: 3
Al Hamnah: 3
Thuwal: 2
Hadad Bani Malik: 1
As Sulaymaniyyah: 1
Adh Dhibiyyah: 1
Harad: 1
Al Birk: 1
Ar Ruqʻi: 1
As Suʻayyirah: 1
Badr: 1
Bani Hasan: 1