Saudi Arabia Coronavirus : Total Cases : 54752, Cured : 25722, New Cases : 2736, Deaths: 312, New Recoveries : 2056 , Active Cases : 28718
The Ministry of Health announced in the press conference, today, Sunday 17/5/2020, that 2736 new cases of "Corona" virus were recorded during yesterday, Saturday, bringing the total cases of the virus to 54,752 cases, including 40% of Saudis and 60% of non-Saudis. The number of critical cases 202 are receiving treatment in intensive care facilities in hospitals.
A spokesman for "Health", Dr. Mohamed Al-Abdulali, said: The number of new people recovering from the virus reached 2056 cases, and the total recovery cases reached 25,722 cases.
The spokesman added: The number of new deaths reached 10 cases, bringing the number of "Corona" victims to 312 dead.
Total Cases : 54752
Cured : 25722
New Cases : 2736
Deaths : 312
New Recoveries : 2056
Active Cases : 28718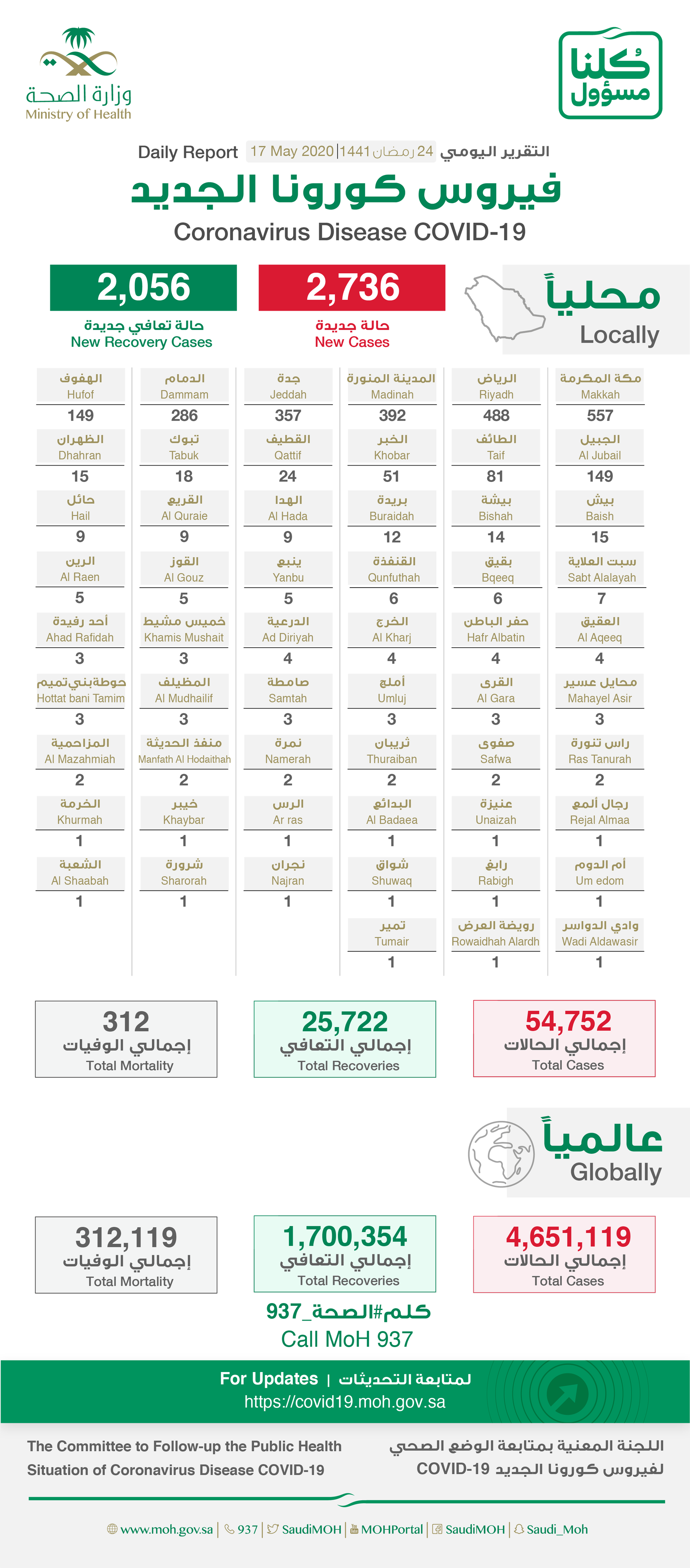 Mecca : 11,266
Riyadh : 10,176
Jeddah : 9,285
Medina : 7,602
Dammam : 3,672
Al Hofuf : 2,390
Jubail : 1,976
Taif : 1,279
News : 1,156
Beach : 698
Tabuk : 509
Qatif : 504
Al-Diriyah : 347
Buraidah : 319
Yanbu : 314
Dhahran : 260
sharpness : 169
Safwa : 168
Bisha : 128
Al Qunfudhah : 127
Khamis Mushait : 125
Al-Kharj : 124
Grouped : 112
Unaizah : 108
Al Zulfi : 94
Hail : 92
Abqaiq : 88
Ras Tanura : 82
Jazan : 68
Majardah : 63
Al Nairyah : 61
Hafar Al-Batin : 60
A boy : 59
Khalis : 54
Abha : 52
The Patio : 48
Muhayil : 46
New Juniper : 43
Trowel : 41
Najran : 40
Wadi Al Dawasir : 40
Juniper : 38
Qurayyat : 35
Villages : 33
Valley Valley : 31
Al-Jafr : 30
Hada : 30
Rabigh : 29
The Comet : 29
Packed boulders : 27
Muzahmiyyah : 26
Al Khafji : 26
The High Village : 26
Thurayban : 26
The Mocha : 20
The Pumpkin : 20
Bukayriyah : 19
Al-Mazhaf : 19
Sager : 18
Sat. : 17
The crossbar : 15
Be confident : 15
Hotat Bani Tamim : 15
Khurma : 14
Rain : 13
Sharurah : 13
Modern Borders Center : 13
Dhurma : 12
The Cradle of Gold : 12
Salwa : 12
milling : 12
Sakaka : 11
Silent : 11
Duba : 11
Rafah : 11
I join : 11
Dalam : 10
Abu Arish : 10
Al Rass : 9
Laith : 9
Baljurashi : 8
the face : 8
humps : 8
Nobody's rafidha : 7
Laila : 7
Ais : 7
Al Quoz : 6
the hotel : 6
The Badaya : 6
Blonde : 6
Sleepless : 5
Tigress : 5
Moaih : 5
Agate : 5
Domat Al-Jandal : 5
Al Quway'iyah : 5
Mind the Falcons : 4
Hotat Sudair : 4
Scion : 4
Dawadmi : 3
Meliga : 3
Qia : 3
The Hanakia : 3
Khyber : 3
Tabarjal : 3
Maysan : 3
Mubarraz : 3
Ruwaida : 2
Riyadh Experts : 2
soil : 2
Saihat : 2
Mother of Doom : 2
Division : 1
Haddad Bani Malik : 1
Thule : 1
revolving : 1
Al Eidabi : 1
flash : 1
the trail : 1
longing : 1
Sarat Ubaidah : 1
full : 1
Shamali : 1
gazelle : 1
Injustice : 1
Alkali : 1
Hurricane : 1
Triangulation : 1
Al-Ula : 1
Taima : 1
field : 1
spears : 1
Tamir : 1
times : 1
bright men : 1
A thylan : 1