Jawazat Allows Cancellation Of Exit Re-Entry Or Final Exit Visa Online Through Absher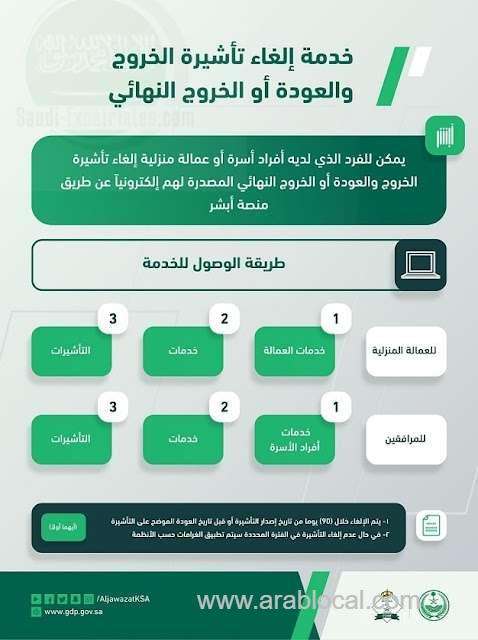 The General Directorate of Passports (Jawazat) in Saudi Arabia confirmed that an individual who has family members or domestic workers can cancel their exit re-entry or final exit visa issued to them online through the "Absher" platform.
The Saudi Jawazat through its official Twitter account said, the way to access the service.
* For Domestic workers, is in 3 steps, starting with 'labor services', then 'services', and then 'visas'.
* For Dependents, the three steps begin with 'family member services', then 'services', and then visas.
The Jawazat authorities has set the conditions for canceling the final exit visa or exit and re-entry visa, which are as follows,
1. Absence of a prior violation, can lead to failure to cancel of an issued and unused visa.
2. Cancellation can be done within 90 days from the date of issuance of the visa or before the return date shown on the visa, whichever comes first.
3. If the visa is not canceled within the specified period, fines will be applied according to the regulations.
4. The presence of the individual in the Kingdom of Saudi Arabia, for whom the visa is to be canceled, when applying for cancellation.
SOURCE : SAUDI EXPATRIATES