Indian Ambassador Meets Saud University Officials To Enhance Education Cooperation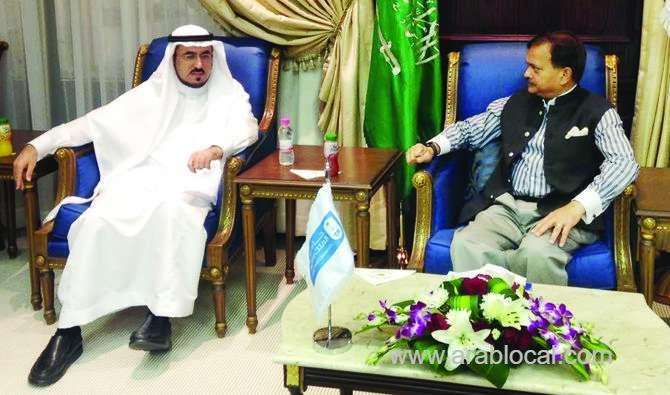 Indian Ambassador Ahmad Javed met senior officials during a visit to the King Saud University (KSU) campus in Riyadh and discussed cooperation to enhance education ties between the two countries.
The ambassador visited the KSU recently and held a meeting with Abdullah Al-Salman, vice president of the university, which was also attended by Director of International Cooperation Mezyad Al-Terkawi, Dean of the Science College Nasser Al-Daghri, Dean of the Engineering College Waleed Zahid and other senior officials.
The ambassador held detailed discussion with the vice president on bilateral cooperation in higher education and the possibility of collaboration with Indian universities and academic institutes.
The Indian envoy briefed officials about the "Study in India" program; Saudi students can pursue higher studies in disciplines of their interest in 150 reputable Indian institutes.
The Indian ambassador also shared a detailed brochure with the vice president about the program, maintaining that Saudi students would find it culturally comfortable and educationally stimulating in India at a significantly lower cost.
The vice president was appreciative of the achievements made by the Indian institutes for technical learning, such as Indian Institute of Technology (IIT), excellence in the fields of management, medicine, science and technology, and expressed interest in having collaboration with IIT and the Indian Institute of Management (IIM) and entering into student exchange programs with Indian institutes.
Responding to the vice president's interest in collaboration with Indian institutes, the ambassador asked about specific streams and research fields the Saudi side would be willing to have collaboration with Indian institutes.
The director of international cooperation said that India, despite its significant achievements in the field of higher studies, was not able to present its strength in the study programs appropriately, suggesting that there should be regular interactions between the faculties from the two countries.
He advised that KSU could host an exhibition of Indian institutes of high repute in the near future. Al-Terkawi further advised hosting a symposium on IT and science tech to which Saudi scholars could be invited.
Javed requested a list of speakers, scholars and researchers from KSU who could be invited to the symposium. After the meeting, the ambassador visited the science and engineering colleges of the university and met a number of Indian faculty members who have been associated with the university for several years.
KSU has 65 Indian faculty members in the science college, about 80 faculty members in the engineering and IT colleges, as well as a number of Indian students who are pursuing higher studies at the university.
SOURCE : ARABNEWS