In Phone Calls With Counterparts, The Saudi Foreign Minister Assures The Safety Of Released Prisoners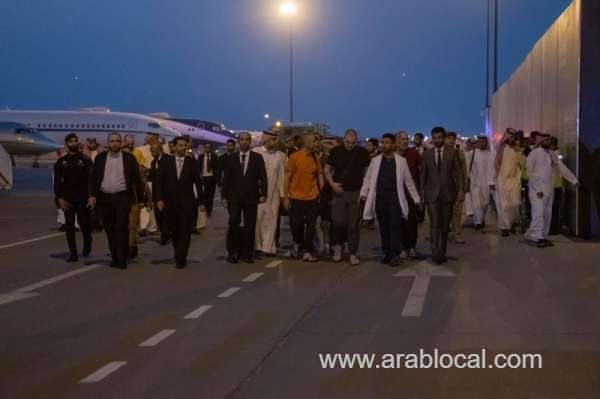 On Wednesday, Saudi Arabia's Foreign Minister Prince Faisal bin Farhan bin Abdullah spoke with his counterparts in the United States, United Kingdom, Sweden and Croatia.
He assured them that the released prisoners from their countries were safe. A plane carrying ten prisoners arrived in the Kingdom after their release by Russia following the successful mediation efforts by Crown Prince Mohammed bin Salman as part of an exchange of prisoners of war (POWs) between Russia and Ukraine.
The Prince spoke by phone with US Secretary of State Antony Blinken; British Secretary of State for Foreign, Commonwealth and Development Affairs James Cleverly; Swedish Foreign Minister Ann Linde; and Croatian Foreign Minister Gordan Grlić Radman.
During the phone calls, Prince Faisal reassured the Russians that the released prisoners would be safe in the Kingdom. The minister underscored the Crown Prince's concern for their safety. Moreover, the foreign minister noted that the relevant authorities in the Kingdom are figuring out procedures to ensure their early departures.
Foreign ministers expressed their appreciation for the Crown Prince's mediation efforts in securing the release of the prisoners, which included five Britons, two Americans, a Croatian, a Moroccan, and a Swedish citizen.
After "months of uncertainty and suffering for them and their families," British Prime Minister Liz Truss hailed the release of the British nationals on Twitter.