Finder Of The 'Pfizer Vaccine'Those Who Receive The Vaccine Will Not Become A Carrier Of The Virus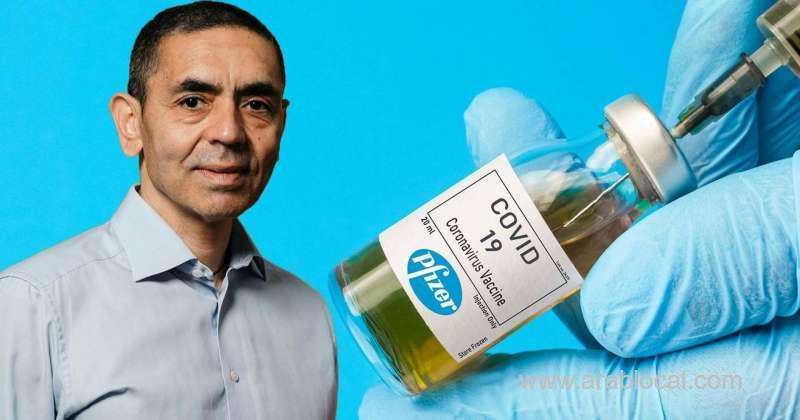 Turkish doctor Igor Shaheen - who is behind the discovery of the Pfizer vaccine approved by many countries in the world and vaccinating its citizens with it to protect them from the Corona virus - revealed that whoever receives the vaccine will not become an infectious person or a carrier of the virus.
Shaheen (55 years), founder of the "Biontech" company, accompanied by his wife, Oslem Torresi, the main partner of the American company "Pfizer", said in an interview with the most famous newspaper in Germany, "Bild", that "after vaccination with the vaccine becomes the possibility of transmitting the virus even if he is infected with it." Down by 92%, "adding:" With this information, we now know that we can effectively contain the epidemic if enough people are vaccinated. "
Shaheen cited a study conducted in the Zionist entity, which indicated that "the Pfizer vaccine prevents the transmission of the Corona virus," and explained: "We see that the light of the end of the epidemic tunnel ... is getting brighter," indicating that the end of the pandemic is approaching. New variants Regarding the new variants of the virus, especially those that appeared in Britain, Shaheen said: "We know that our vaccine (that is, the Pfizer vaccine) protects against most of the known mutations, including the B1.1.7 strain. Which is spread in many areas ».
• The third booster vaccine
As for the enhanced third vaccine that Pfizer and Biontech are considering to offer to provide greater protection from the new variants of the Coronavirus, Shaheen said: "If new variables emerge and are difficult to deal with and represent a challenge to the current vaccines, the simple strategy can be to give a third dose. From the current vaccine, "adding:" Such enhanced vaccination can produce immune protection so strong that the variants will not have an effect. "
Annual vaccination Regarding the vaccination process, Shaheen said: "If we want the virus to find it more difficult to spread in the future and we want to reduce infection, people must be vaccinated frequently, at least every year or every year and a half."
• Vaccine production
About the pace of production of the Pfizer vaccine, Shaheen said: "Fortunately, everything is running smoothly in the production of the vaccine, we do not have any problems now."
What can we learn from the pandemic?
Igor Shaheen concluded his interview with Bild newspaper by providing advice on what he had learned from this pandemic, saying: "We can learn a lot from the current epidemic.
If we prepare well now, we can respond faster, develop vaccines faster, and produce adequate doses faster in the future. "
SOURCE ALQABAS