A Historic Picture Of Group Of 20 Leaders Adorns In Heart Of Diriyah In Riyadh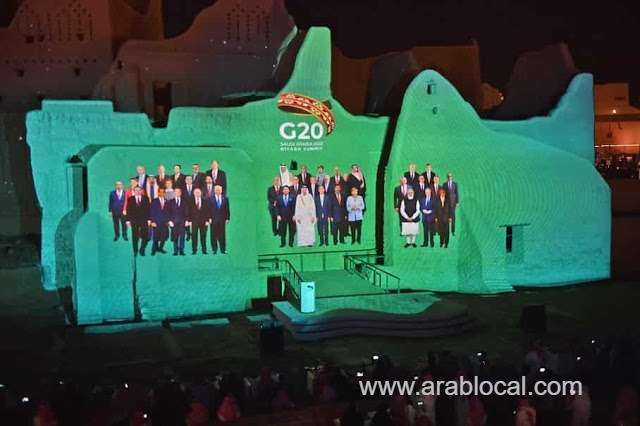 The historical portrait of the leaders of the G20 countries displayed at the historic Al-Turaif district in the heart of Diriyah, in Riyadh.
The Ministry of Foreign Affairs published the picture via its Twitter that displayed at the Al-Turaif district in Al-Diriyah and commented on it, saying, "We are separated due to the Corona pandemic and our technical proximity to make new successes."
- The historic Al-Turaif district in Diriyah hosted the heritage night accompanying the G20, which comes under the leadership of the Kingdom for this year 2020, in the presence of a number of their Highnesses, Excellencies and ambassadors of countries in the Kingdom, and the supervision of the Diriyah Gate Development Authority.
- Today, 21st November the 15th session of the G20 Leaders Summit will begin virtually, chaired by the Kingdom. The Summit will be chaired by the Custodian of the Two Holy Mosques Saudi Arabia's King Salman and attended by the head of state of G20 members and guest countries including the heads of international organizations.
- This summit is one of the most powerful meetings for making decision in the world. This G20 Summit carries more significance as the world is looking to G20's efforts in protecting lives and livelihoods and helping the recovery after the corona virus pandemic.
- The aim of the Saudi G20 presidency to focus on empowering humans, safeguarding the world and shaping the frontiers.
SOURCE : SAUDI EXPATRIATES
Follow us on Facebook and Instagram
For Saudi Arabia Business Directory
For Saudi Arabia Latest News
For Saudi Arabia Daily Exchange Rates
For Saudi Arabia Daily Gold Rates
For Saudi Arabia Latest Offers