Saudi Arabia Coronavirus : Total Cases :266,941, New Cases : 1,968, Cured : 220,323 , Deaths: 2,733, Active Cases : 43,885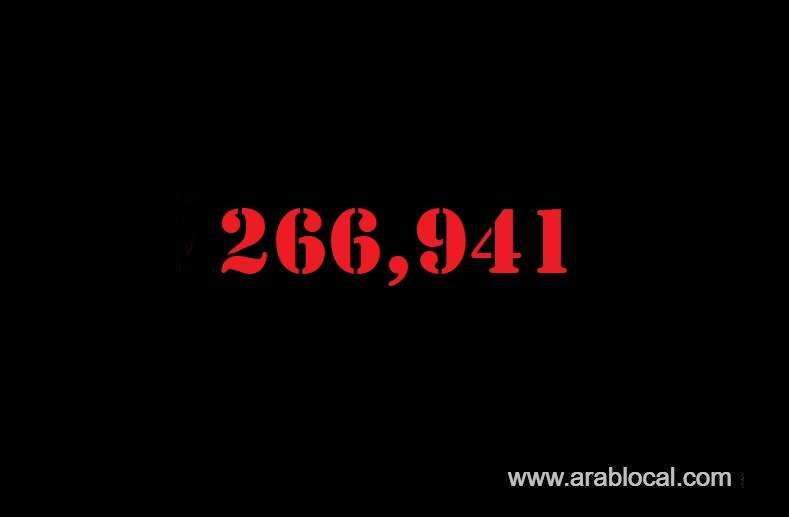 Covid 19 Cases As Of July 26, 2020
Total Cases : 266,941
New Cases : 1,968
Cured : 220,323
Deaths : 2,733
Active Cases : 43,885

Saudi Arabia reported 1,968 new cases of the deadly coronavirus, bringing the total number of confirmed infections in the Kingdom to 266,941, the Ministry of Health announced on Sunday.
Al-Hufouf reported the highest number of cases with 208 new infections. Meanwhile, the capital Riyadh only recorded 126 new cases, while Jeddah recorded 41.
The other new infections were detected in cities and provinces across the country.
Thirty people died due to complications caused by COVID-19, which raises the virus-related death toll in the Kingdom to 2,733.
Meanwhile, the total recoveries in Saudi Arabia rose to 220,323 after 2,541 people recovered from the virus.
Saudi Arabia welcomed on Friday the first group of Hajj pilgrims, selected based on specific requirements, amid strict coronavirus preventative measures.
Due to the coronavirus pandemic, the Kingdom only allowed those living in the country and who meet certain criteria to participate in this year's Hajj pilgrimage, which is one of the five pillars of Islam and required for able-bodied Muslims at least once in their lifetime.
AR RIYAD: 52,710
Jeddah: 29,830
MAKKAH al MUKARRAMAH: 28,230
Ad Dammam: 16,562
AL MADINAH al MUNAWWARAH: 16,247
Al Hufuf: 15,823
At Ta'if: 9,427
Al Qatif: 7,301
Al Khubar: 6,593
Al Mubarraz: 6,207
Khamis Mushayt: 5,555
Al Jubayl: 4,754
ABHA: 3,760
BURAYDAH: 3,604
AD͟h D͟hahran: 3,204
HA'IL: 3,197
Hafar al Batin: 3,054
NAJRAN: 2,739
TABUK: 2,401
Yanbuʻ: 1,779
Al Kharj: 1,540
Safwá: 1,525
Baysh: 1,447
Ad Dirʻiyyah: 1,424
Wadi Ad Dawasir: 1,391
Mahayil: 1,389
ʻUnayzah: 1,295
JAZAN: 1,172
Bishah: 1,144
Ahad Rifaydah: 1,057
Buqayq: 984
Ras Tannurah: 913
Sharurah: 805
Al Jafr: 737
ʻARʻAR: 640
Ar Rass: 600
Abu ʻArish: 589
Khulays: 587
An Namas: 574
Sabya: 569
Sabt al ʻAlayah: 568
Al Muzahimiyyah: 568
Al ʻUyun: 554
An Nuʻayriyyah: 550
SIKAKA: 530
Al Majmaʻah: 497
Hawtat Bani Tamim: 458
Al Qunfudhah: 449
Samtah: 438
Billasmar: 414
Al Midhnab: 408
Sarat ʻAbidah: 380
Rijal Al Ma: 380
Al Khafji: 347
ʻUyun al Jiwa': 343
Huraymila': 335
Al Harajah: 329
Al Majardah: 329
AL BAHAH: 328
Al Bukayriyyah: 328
Wadi Ibn Hashbal: 322
Al Maddah: 312
Biljurashi: 303
Az Zulfi: 296
Ranyah: 282
Turuba: 270
As Sulayyil: 266
Al ʻIdabi: 265
Al Lith: 257
Sajir: 257
Al Sehen: 256
Al Bashayer: 251
Duruma: 248
Riyad al Khabra': 246
D͟hahran al Janub: 234
Tathlith: 232
Al Bada'iʻ: 226
Ad Duwadimi: 222
Al Qara: 205
Mihd adh Dhahab: 198
Al Mud͟haylif: 197
Baqʻa': 196
Hadda: 196
Al Asyah: 188
ʻAfif: 188
Tabalah: 188
Qaryat Al 'ulya: 183
Rafa'i' Al Jamsh: 179
Al Gouz: 179
Al Mandaq: 178
Rabigh: 177
Al Khurmah: 174
Ar Ruwaydah: 173
Hawtat Sudayr: 172
Al Quwayʻiyyah: 171
Tanumah: 169
Rafha: 167
Al Mikhwah: 165
Yadamah: 162
Ad Dilam: 161
Thurayban: 158
Thadiq: 156
Shaqra': 156
Rumah: 150
Mulayjah: 148
Qiya: 145
Qilwah: 142
Duba: 140
Bariq: 139
Ad Darb: 133
Al Qari': 131
Al Ha'it: 128
Ash Shamli: 125
Al Muwayh: 118
Ad Da'ir: 115
Al ʻAridah: 113
ʻUrayʻirah: 111
Umm Ad Dawm: 111
Batha': 110
Al ʻAqiq: 108
Laylá: 108
An Nabhaniyyah: 101
Al Hinakiyyah: 98
Umlujj: 97
Maysan: 97
Tumayr: 96
Wuthaylan: 95
Hubuna: 94
Al ʻUla: 92
Ahad al Musarihah: 90
Salwá: 90
Badr al Janub: 89
Al Mahani: 83
Wadi Al Fara: 83
At Tuwal: 82
Turayf: 82
Hazm al Jalamid: 82
Dariyyah: 80
Ar Rayn: 79
Adam: 79
Al Hada: 77
Al Qaysumah: 73
Al Wajh: 72
Tabarjal: 69
Numarah: 66
Al Qurayyat: 61
Ash Shinan: 59
Al Kamil: 58
Judayyidat ʻarʻar: 57
Al GhAzalah: 57
Mawqaq: 56
Qusayba': 56
Khaybar: 55
D͟halm: 53
Khubash: 51
Al Hadithah Border Station: 50
Al Bijadiyyah: 49
Al Quwarah: 48
Al Birk: 47
Farasan: 44
Al Qahmah: 42
Marat: 40
Fayfa: 39
Ar Rayth: 39
Al ʻIs: 38
Thar: 36
Al Badʻ: 36
Dawmat al Jandal: 36
Al Muwassam: 33
Al Hariq: 31
Al Farshah: 31
Adh Dhibiyyah: 27
Al ʻUwayqilah: 27
ʻUqlat as Suqur: 22
Al Sho'bah: 21
Nifi: 21
Damad: 21
Al Khasirah: 20
Haql: 19
Al Harth: 19
Al Hamnah: 19
Tayma': 16
As Sulaymi: 13
Al Artawiyyah: 12
Sayhat: 12
Samira': 10
Mayquʻ: 8
Al Hadban: 8
Thuwal: 7
Ar Ruqʻi: 6
Al Ghat: 6
Abu 'urwah: 6
Shuwaq: 5
As Sufairy: 4
Samudah: 3
Badr: 3
Bani Hasan: 3
Suwayr: 2
As Suʻayyirah: 2
Hadad Bani Malik: 1
As Sulaymaniyyah: 1
Harad: 1