Preventing Direct Or Indirect Travel Of Citizens To Indonesia - MOI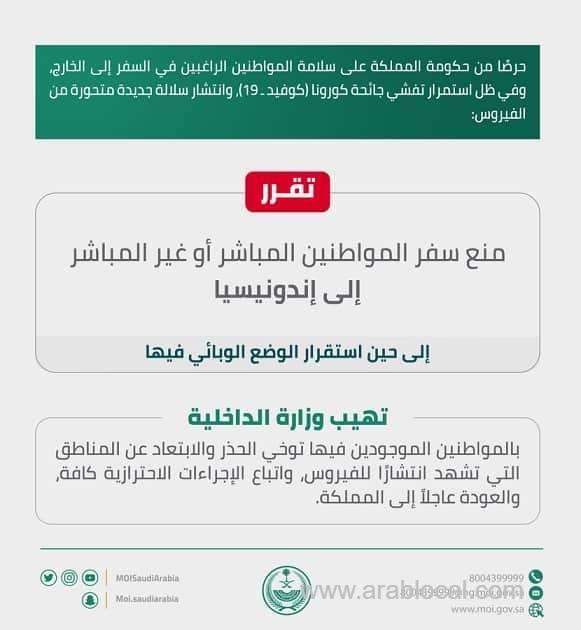 The Ministry of Interior in Saudi Arabia announced the ban for citizens from traveling directly or indirectly to Indonesia until the epidemiological situation in Indonesia stabilizes.
This came in light of the Saudi government's keenness on the safety of its citizens wishing to travel abroad, and in light of the continuing outbreak of the Corona pandemic, the spread of a new mutated strain of the virus, and the health situation in the Republic of Indonesia.
- The Ministry of Interior called on all the citizens present in it to be careful and to stay away from areas witnessing the spread of the virus and to follow all precautionary measures, and to return sooner to the Kingdom.
- Meanwhile, The Saudi embassy in Indonesia called on citizens to be careful and to stay away from crowded areas and to arrange an urgent return to the Kingdom.
- The embassy appealed in a tweet through its official Twitter account, citizens to contact the embassy for assistance.
SOURCE : SAUDI EXPATRIATES
Follow us on Facebook and Instagram
For Saudi Arabia Business Directory
For Saudi Arabia Latest News
For Saudi Arabia Daily Exchange Rates
For Saudi Arabia Daily Gold Rates
For Saudi Arabia Latest Offers