For The 92nd Saudi National Day, Saudi Airlines And Flyadeal Are Offering Special Deals On Domestic Flights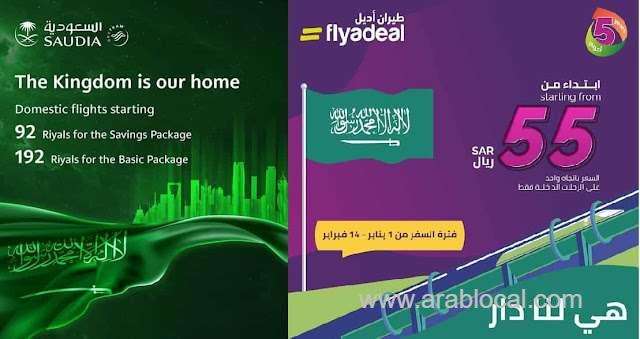 Saudi Arabian Airlines announced its 92nd Saudi National Day offer under the title "The Kingdom is our Home" for just 92 riyals for the saving package and 192 riyals for the basic package.
Offer valid on all Saudi Airlines domestic flights issued between 21st September and 23rd September 2022, for travel between 1st January and 31st March 2023.
Saudia said the offer only applies to the Guest class, one-way direct flights, the percentage may vary based on the booking class, seats are limited, and the offer is only available online.
For Booking Saudi Airlines Domestic flights on offer price and for terms and conditions go through the link "Saudi Airlines 92nd Saudi National Day Offer".
For the occasion of the 92nd Saudi National Day and in celebration of their 5th anniversary, Flyadeal airline is offering the travel at the lowest prices starting from 55 riyals.
Seats are limited, one-way price includes 7kg cabin baggage, offer does not include weekends or school holidays. Offer valid for travel between 1st January 2023 and 14th February 2023.
- For booking your domestic flight ticket at offer price follow the link "92nd Saudi National Day Flyadeal offer".
SOURCE : SAUDI EXPATRIATES