Turaif Records Lowest Temperature While Jeddah Records Highest In Saudi Arabia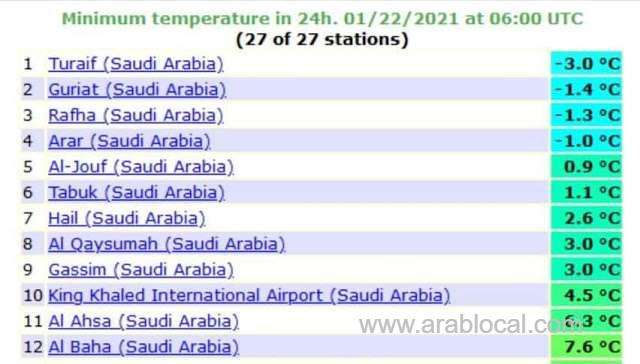 The lowest and highest temperature recorded in the Kingdom Saudi Arabia, at dawn of Today, Turaif city of the northern border region recorded the lowest temperature, while Jeddah in the Makkah region recorded the highest temperature announced the National Center of Meteorology.
The Meteorology Center stated that Turaif recorded the lowest temperature of -3 degree Celsius at dawn Today, while the city of Jeddah recorded the highest temperature of 32 degrees Celsius.
- The National Center of Meteorology, in its report on the weather Today, had predicted the continued to decline in temperatures in most of the regions, and the formation of snow in some parts of the northern border regions, Al-Jouf, Hail and Tabuk.
Lowest temperature recorded in last 24 hours :
1. Turaif : -3°C
2. Guriat : -1.4°C
3. Rafha : -1.3°C
4. ArAr : -1°C
5. Al Jouf : 0.9°C
6. Tabuk : 1.1°C
7. Hail : 2.6°C
8. Al Qaisumiah : 3°C
9. Qassim : 3°C
10. Riyadh Airport : 4.5°C
SOURCE : SAUDI EXPATRIATES
Follow us on Facebook and Instagram
For Saudi Arabia Business Directory
For Saudi Arabia Latest News
For Saudi Arabia Daily Exchange Rates
For Saudi Arabia Daily Gold Rates
For Saudi Arabia Latest Offers