SR8,850 Minimum Charges Set For Hiring Filipina Maids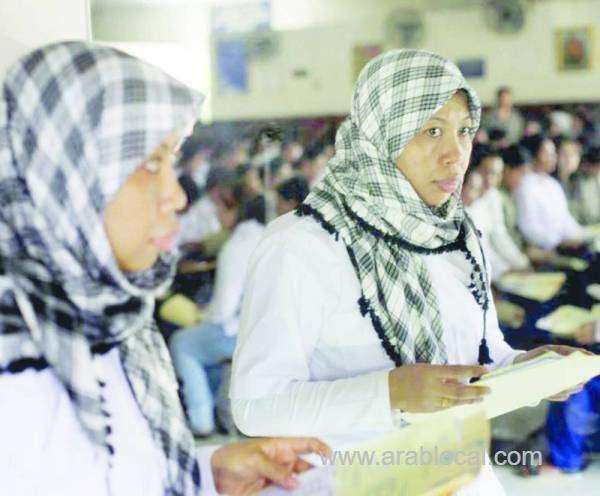 The Ministry of Labor and Social Development has introduced a new electronic service named "Maaroufah" to import housemaids from the Philippines at a minimal price of SR8,850.
Ministry spokesman Khaled Aba Al-Khail said the new service, which is available on Musanid electronic portal, enables beneficiaries to recruit housemaids from the Philippines at a fixed rate of SR8,850 excluding VAT and in a fixed timeframe of 45 days.
He explained that the beneficiary should chose the name of the housemaid and provide the related documents.
Some industry sources estimated the cost of importing housemaids from the Philippines to be more than SR14,000 and said this contradicts with the ministry's fixed price through its Maaroufah service.
You Also Read :
Asian Housemaids Still Ditching Sponsors Despite Deterrent Steps
Mother Of Children Fatally Stabbed By Maid Speaks Out On Horrific Crime
Ethiopian Maid Suspected Of Killing A 10yearold Girl In Riyadh Was Arrested
The sources said even if you include the VAT to the ministry's fixed rate, the cost of recruiting housemaids from the Philippines will not reach SR14,000.
A number of citizens asked the ministry not to fix certain charges and leave that to the theory of demand and supply.
They said the prices should be left to the recruitment companies to decide under the supervision of the ministry.
Meanwhile, a ministry source said the agreement with Indonesia to send housemaids will soon be effective.
He said under the agreement, Indonesia will send housemaids to the Saudi recruitment companies which will rent to the interested Saudi families at a monthly salary of SR1,500.
The agreement said the housemaids will be rented to the individuals without transferring their iqama on them.
SOURCE : SAUDIGAZETTE