Saudi Arabia Coronavirus : Total Cases : 80185 , Cured : 54553 , New Cases : 1644, Deaths: 441 , Active Cases : 25191
Saudi Arabia announces 1644 new Coronavirus cases, 3531 new Recoveries and 16 new deaths in the last 24 hours on 28th May 2020, Almost all of the Covid-19 infected patients are in stable condition and being treated, while few cases are on critical condition and are in various hospital's Intensive Care Units, All the confirmed and infected cases are isolated and are being treated in the Kingdom, the Total Corona cases as of Today are as follows
Total Cases : 80185
Cured : 54553
New Cases : 1644
Deaths : 441
Active Cases : 25191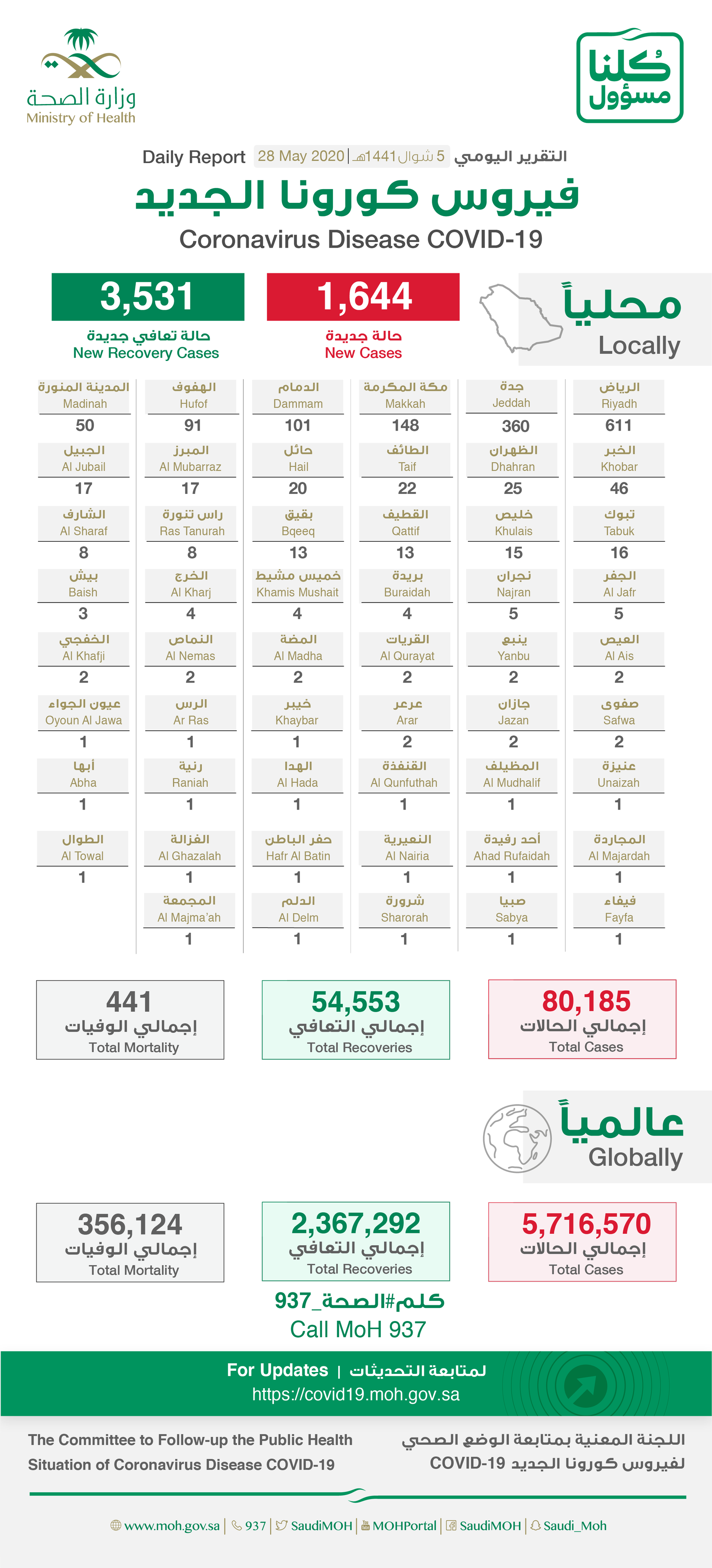 - The Minister of Health said The pandemic is ongoing and the virus still exists so you do not cause harm to yourself and transmit infection due to carelessness and negligence. We must carry out our legitimate and national duty to follow to healthy behaviors..
- The corona virus cases continuously decreasing day by day in Saudi Arabia, The Kingdom has the highest cases in the Gulf as it is the largest both in terms of area and population.
- Total testings conducted are more than Seven Hundred and Seventy Thousand (770,696), Corona virus reached 160 cities of Saudi Arabia. Our commitment means our safety for all, and our some carelessness means harm to all.
- Today, The number of testings performed on the new cases of Corona virus in Saudi Arabia are 16,428. Today, the largest 611 cases recorded in Riyadh.
- Worldwide Covid-19 infection details as of Today (28th May) are
Infections : 5,716,570
Recovered : 2,367,292
Deaths : 356,124
Total Cases in the Kingdom region wise details on 28th May are as follows
MAKKAH al MUKARRAMAH: 14,978
Jeddah: 13,500
AL MADINAH al MUNAWWARAH: 9,400
Ad Dammam: 5,016
Al Hufuf: 3,460
Al Jubayl: 2,569
Al Khubar: 1,820
At Ta'if: 1,689
Al Qatif: 895
Baysh: 767
TABUK: 714
BURAYDAH: 693
Ad Dirʻiyyah: 660
AD͟h D͟hahran: 554
Yanbuʻ: 389
HA'IL: 286
Al Kharj: 194
Safwá: 191
Khamis Mushayt: 181
Hadda: 169
Khulays: 149
Bishah: 141
Al Qunfudhah: 136
Buqayq: 131
Al Majmaʻah: 130
Ras Tannurah: 130
ʻUnayzah: 122
Az Zulfi: 97
NAJRAN: 92
An Nuʻayriyyah: 85
Hafar al Batin: 83
Hazm al Jalamid: 82
ABHA: 80
Wadi Ad Dawasir: 80
Mahayil: 79
ʻARʻAR: 75
Sabya: 73
JAZAN: 72
Al Jafr: 69
Al Majardah: 68
Sharurah: 68
AL BAHAH: 65
Al Hada: 64
Duba: 60
Umlujj: 59
Al Muzahimiyyah: 55
Judayyidat ʻarʻar: 51
Al Sehen: 49
Al Qurayyat: 38
Al Khafji: 38
Rabigh: 37
Al Hadithah Border Station: 35
Al Qara: 35
Hawtat Bani Tamim: 34
Al Mubarraz: 33
Wadi Al Fara: 32
Thurayban: 32
Al Midhnab: 31
Al Qari': 29
Qaryat Al 'ulya: 27
Al Bukayriyyah: 26
Shaqra': 25
Al ʻAridah: 24
Al Mikhwah: 24
Al Mud͟haylif: 24
Sabt al ʻAlayah: 22
Thadiq: 22
Al Quwayʻiyyah: 22
Sajir: 21
Ahad Rifaydah: 20
Al Gouz: 20
Duruma: 20
Ar Rayn: 19
Ad Dilam: 19
Ar Rass: 19
Umm Ad Dawm: 19
SIKAKA: 16
Mihd adh Dhahab: 16
Samtah: 15
Salwá: 15
Numarah: 14
Al Khurmah: 14
Al ʻAqiq: 14
Al Lith: 14
Hawtat Sudayr: 13
D͟halm: 13
Rafha: 13
As Sulayyil: 13
Ar Ruwaydah: 12
Abu ʻArish: 12
Ad Duwadimi: 12
Laylá: 12
Adam: 12
Biljurashi: 11
Huraymila': 10
Al Wajh: 10
Maysan: 10
Al Bada'iʻ: 9
Qilwah: 9
Rumah: 9
Al ʻIs: 9
At Tuwal: 8
Al Hariq: 8
Al Shaarif: 8
Al Hadban: 8
An Namas: 7
Batha': 6
Thar: 6
Al Mandaq: 6
ʻUyun al Jiwa': 6
Tumayr: 6
Rijal Al Ma: 6
ʻUqlat as Suqur: 5
Mulayjah: 5
Al Muwayh: 5
Khaybar: 5
Tathlith: 5
Dawmat al Jandal: 5
Al ʻIdabi: 4
Al GhAzalah: 4
Al Hinakiyyah: 4
Tabarjal: 4
Al Bashayer: 4
Al Maddah: 3
Qiya: 3
Riyad al Khabra': 3
Al ʻUyun: 3
Haql: 3
Marat: 3
Wuthaylan: 3
Billasmar: 3
Thuwal: 2
Ad Darb: 2
Turayf: 2
Ranyah: 2
Al Kamil: 2
D͟hahran al Janub: 2
Turuba: 2
Al ʻUla: 2
Tayma': 2
Fayfa: 2
Sayhat: 2
Al Sho'bah: 1
Mawqaq: 1
Al Asyah: 1
Hadad Bani Malik: 1
Rafa'i' Al Jamsh: 1
Ad Da'ir: 1
As Sulaymaniyyah: 1
Shuwaq: 1
Al Mahani: 1
Sarat ʻAbidah: 1
Ash Shamli: 1
Nifi: 1
Ahad al Musarihah: 1
Baqʻa': 1
Damad: 1
Al Harth: 1
Al Farshah: 1