Procedure To Check Family Visit Visa Validity Or Expiry Date In Saudi Arabia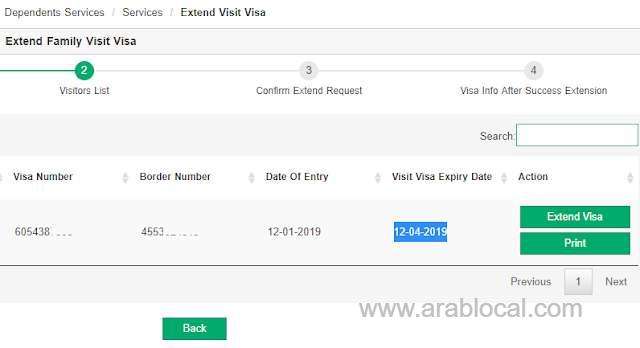 Family visit visa validity or expiry date in Saudi Arabia can be check through Absher website, Generally it is known that the visit visa is valid for 30 days or 90 days, Actual validity starts from the date of entry and expires within the visa date, In order to know the exact date we bring the below procedure for you.
Procedure for "How to check family visit visa validity in Saudi Arabia ?":
1. Login to your MOI absher account using new "Absher.Sa" or old "Moi.gov.sa", authenticate yourself using mobile.
2. Once you logged in, Click on "My Account" then from drop down choose "DashBoard".
3. After your Dashboard page opens, Scroll down to last and click on "More Detail" of "Visit Visas" section.
4. Now a page opens with your visitor visa details, It includes visitor name, passport number, visa number, border number, date of entry and visit visa expiry date.
- This page opens only if your visit visa holder is entered in Saudi Arabia, Other wise it will show visit visas as zero.
- You have two options in this page with visitor details, One is 'Extend Visa' and the other one is 'Print'.
- "Extend Visa" option only works if the visitor visa is expiring in 7 days up to 3 days after expiry date.