Procedure To Activate 'Digital Iqama' Through 'Absher Individuals' For Saudi Expats And Citizens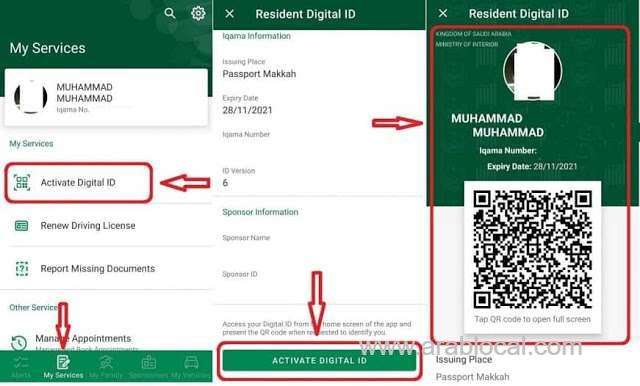 Saudi Arabia has launched 'Digital Iqama' for expatriates living in the Kingdom, one can be activate, download and save on his smartphone as Digital ID, It can use at various services without providing your physical iqama.
For now, digital iqama can be activate and download through 'Absher Individuals' app, this app is available in Play Store and App Store.
Follow the below procedure to Activate 'Digital ID (Iqama)' with Absher Individuals :
1. Login to your Absher account, Verify the SMS code you receive.
2. Click on 'My Services' and select 'Activate Digital ID'.
3. Now you can see your Iqama information and a button to 'Activate Digital ID', Click on it.
4. Once you activate, you can download or take a screenshot of it and save it on your smartphone for using it without internet.
SOURCE : SAUDI EXPATRIATES
Follow us on Facebook and Instagram
For Saudi Arabia Business Directory
For Saudi Arabia Latest News
For Saudi Arabia Daily Exchange Rates
For Saudi Arabia Daily Gold Rates
For Saudi Arabia Latest Offers