New Saudi TV Channel Offers A Broad Mix Of Exclusive Content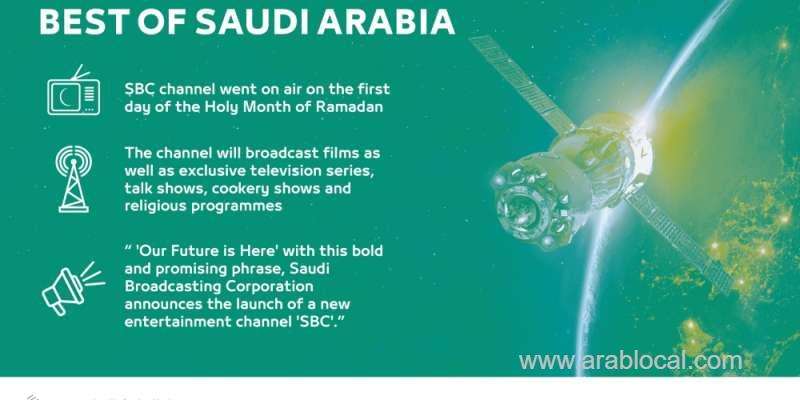 State-run Saudi Broadcasting Corporation (SBC) has launched a new free-to-air television channel, SBC, that offers a broad mix of exclusive programs as part of Saudi Arabia's modernization drive, said a press release issued by the Center of International Communication.
The channel, which went on air at 4 p.m. Riyadh local time on Thursday, the first day of the holy month of Ramadan, will broadcast films, as well as exclusive television series, talk shows, cookery shows and religious programs.
"'Our Future is Here' with this bold and promising phrase, Saudi Broadcasting Corporation announces the launch of a new entertainment channel 'SBC'," SBC said in a statement.
"This is a new channel that will project the true image of modern Saudi Arabia," said Dr. Awwad Al-Awwad, Minister of Culture and Information.
"This is part of the continued journey of the Kingdom, anchored in its glorious past but looking ahead to a brighter and better future, as it embarks on implementing its ambitious Vision 2030 blueprint for the road ahead.
"We are currently witnessing positive developments across the sectors from the economy, to entertainment and culture, and the new channel will help shed light on these changes," he added.
The new channel replaces Al-Thakafiyah — the cultural and art channel.
SBC also launched on Thursday the SBC channel's website sbcchannel.sa, as well as the shashatcom.sa portal which will offer the most popular programs and serials, both on demand and via live broadcast, free of charge.
The portal can be accessed without registration and viewers can reach their favorite programs with three easy clicks, SBC officials said.
"In the next five years, TV screens will further decline and they will be replaced by digital platforms," said the head of the channel Dawood Al-Shirian.
"The first broadcast will coincide with the launch of the channel's website named 'Your screen' (Shashacom). We are interested in opening up promising opportunities for the youth on social media by presenting their content on the site," he added.
After launching SBC, we will launch SBC 2 in English and develop the children's TV station, Ajyal, he said.
SOURCE : SAUDIGAZETTE