MOI Warns Private Sector Companies On Violating Corona Precautionary Measures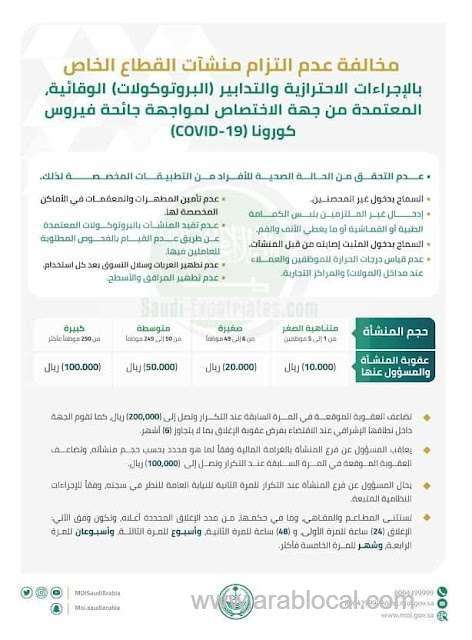 The Ministry of Interior in Saudi Arabia has warned of heavy penalties on the private sector companies that do not comply with the preventive and precautionary measures related to prevent the spread of Corona virus (Covid-19).
The violations includes, failure to check body temperature while entering into facility and allowing non-vaccinated or corona positive people.
- The Ministry stated the other violations which includes, lack of sanitizers, non-adherence to face mask and physical distancing norms, and failure to sterilize equipment, shopping carts and surfaces.
- Violating these precautionary measures will lead to penalize the company from 10,000 Saudi Riyals for smaller companies and up to 100,000 riyals for large companies.
- The Ministry explained that the penalty may be doubled up to 200,000 riyals in case or repeated violations, the company may also face a 6-months closure. While for restaurants and cafes, the closure period is 24 hours for the first time and a month in case of repeating it for the fifth time or more.
SOURCE : SAUDI EXPATRIATES
Follow us on Facebook and Instagram
For Saudi Arabia Business Directory
For Saudi Arabia Latest News
For Saudi Arabia Daily Exchange Rates
For Saudi Arabia Daily Gold Rates
For Saudi Arabia Latest Offers