India's Haj 2020 Will Be 100 Percent Digital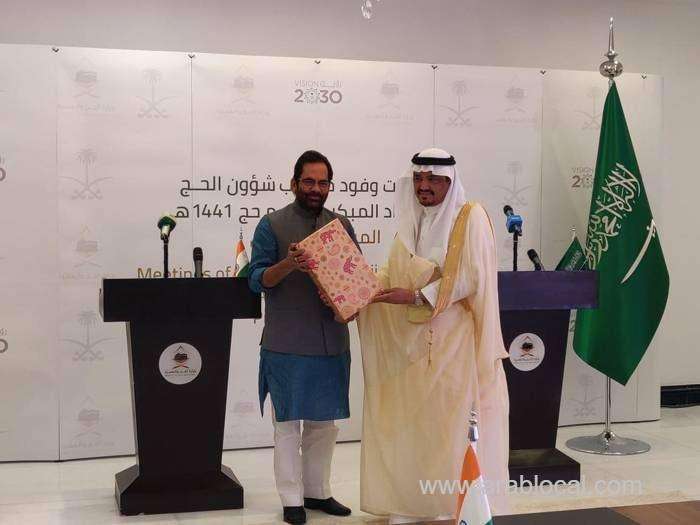 Minister of Minority Affairs Mukhtar Abbas Naqvi has revealed that Haj 2020 will be 100 percent digital stressing it as the new initiative in their constant efforts to provide a seamless Haj experience to Indian pilgrims.
"As far as Haj 2020 is concerned, I think India is the first country who have made the whole Haj process digital. This year the application part is online, and application from all over the country will be online," Naqvi said while addressing a press conference at the Consulate General of India here on Sunday.
Members of the delegation, Jan-e-Alam, additional secretary (Haj) in the Ministry of Minority Affairs; Sheikh Jina Nabi, acting chairman of Haj Committee of India; Satyendra Kumar Mishra, joint secretary in Ministry of Civil Aviation; Dr. Maqsood Ahmad Khan, CEO in Haj Committee of India; Nijamuddin, director (Haj) in Ministry of Minority Affairs, attended the press conference.
Also in attendance were Indian Ambassador Dr. Ausaf Sayeed, Consul General Md. Noor Rahman Sheikh and Consul Haj Y. Sabir.
Naqvi said, "In order for a synchronized digital Haj, private Haj group operators too, will be using the digitized process and a special portal has been dedicated for them. All information relating to Haj, about packages and other things, will be available in the portal.
"Till now 1,80,000 online application has been received by the Haj Committee of India. The last date for the completion of the nomination was Dec. 5, but with some states requesting further extension of the date the Haj Committee will discuss, consider and decide on this matter."
The minister, at the outset, thanked Custodian of the Two Holy Mosques King Salman for a successful Haj 2019, while adding, "Today on behalf of Indian government we signed the bilateral agreement with Saudi Arabia for Haj 2020."
Naqvi signed India-Saudi bilateral agreement on Haj-2020, on the India side, while Minister of Haj and Umrah Dr. Mohammad Saleh Bin Tahir Bentan represented the Saudi side.
"Haj-2019 operations was very successful and went off smoothly and was incident-free and 200,000 Indian Muslims performed Haj without subsidy. And we hope that the same number will perform Haj in 2020 with the same ease and comfort," he said in his introduction.
On the most important issue of the Makkah Road Initiative, Naqvi said work is in progress. "There's already e-immigration and in principle we are ready. We have already set up a joint working group with the government of India and government of Saudi Arabia to work out the modalities, and they are working on this."
Naqvi responded to the question whether the Haj team has identified the area and building for the pilgrims coming for Haj 2020 by saying, we have just completed the bilateral agreement with Saudi Arabia. We have started the Haj process two months earlier than last year and this is part of that process. Consultations will take place before we finalize the place for our pilgrims to stay.
"Just after the completion of the Haj 2019, we began preparations in earnest for Haj 2020 so that Indian pilgrims will be safe and secure while performing their pilgrimage," he added.
On seamless transporting of pilgrims and Haj operation, Naqvi said, "Last year we had only 21 embarkation point for Haj-2019. For Haj-2020, Indian pilgrims will be coming to Saudi Arabia through 22 embarkation points, with Vijaywada the new addition. We are trying our best to have both on time departure and arrival."
On the question on orientation program in India and whether a pan-India orientation program is planned, he answered in the affirmative. "This time we started with the digital orientation, and next time InshaAllah we'll have a more streamlined effort. It will be with the involvement of the state, definitely, but we'll try to make it pan India."
On a question whether Indian pilgrims could arrive via the sea route, Naqvi said, "Haj by Sea route is my dream project, and we are working on this project. We have floated twice global tender and our expectations is to bring down the price for performing Haj through this effort, the process is continuing with we taking all things into consideration."
He also elaborated on the digital process by announcing that the e-tagging facility has been given to Haj pilgrims and 100 lines information center has been established at Haj House, Mumbai.
In addition, both in Makkah and Madinah, e-MASIHA (Medical Assistance System for Indian Hajis Abroad), already exists. E-MASIHA is an online system launched by the Consulate in Haj 2018 to create and maintain comprehensive health database of Indian Hajis and management of medical stock, was enhanced.
Officials from the Indian delegation will also meet with officials of Naqabah Satyyarat on Monday during which agreement for various transport services for Indian pilgrims will be signed. A meeting with the South Asian Moassassa is also scheduled to discuss about various services provided by the Moallims, particularly in the Mashaer region, for the pilgrims.
SOURCE : SAUDIGAZETTE