German Envoy Hosts Interfaith Iftar Banquet In Riyadh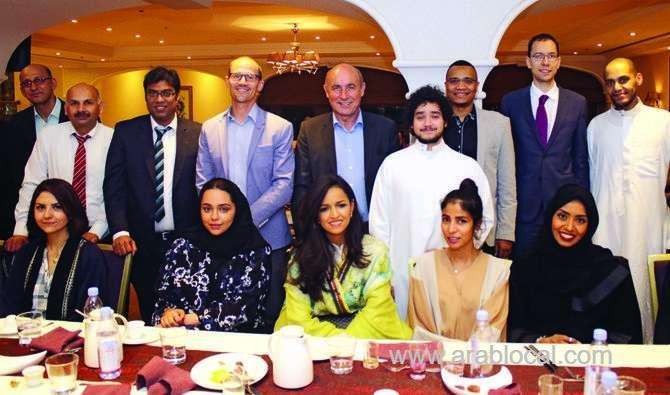 German Ambassador Dieter W. Haller hosted an interfaith iftar dinner at the Marriott Hotel in Riyadh recently to share the blessings of Ramadan and to promote interfaith harmony, peace and cooperation.
In his remarks, he underscored that "peace, love and tolerance are the essence of all faiths in the world, while Ramadan is a month of introspection, tolerance and restraint, which should guide us in our lives." A number of Saudi guests and German officials, including diplomats and journalists, attended the iftar party.
Prominent among those included Dr. Rafael L. Heinisch, counselor for cultural affairs and spokesman of the German embassy; Mark Lucas Pey, country manager for Lufthansa; Peter Mosch, Lufthansa station manager; Alia Alsoud, press officer at the German embassy; Felix R. Tobias, business development manager of Mohammed M. Al Rumaih Company; Farook Shaikh and Aliraza Rashad, Lufthansa account managers.
The envoy said that the Kingdom and Germany have had cordial relations, which were formalized as early as 1929 by the signing of the "Treaty of Friendship" between Germany and the Kingdom of Hijaz and Nejd. He said: "Saudi Arabia is an important partner of Germany, and the relations between the two countries are fostered by regular high-level visits in both directions."
At the invitation of King Salman, German Chancellor Angela Merkel visited the Kingdom and held talks with the Saudi leadership in Jeddah on April 30, 2017.
"This marked her third trip to Saudi Arabia after visits in 2007 and 2010," said Ambassador Dieter.
He noted that Saudi Foreign Minister Adel Al-Jubeir has, since taking office in May 2015, visited Germany several times, most recently in February 2017 to attend the Munich Security Conference and in June 2017 to hold talks with Foreign Minister Sigmar Gabriel.
During a trip to the Gulf region, Gabriel met his Saudi Arabian counterpart in Jeddah on July 3, 2017.
On the commercial front, Saudi Arabia is Germany's second most important Arab trading partner after the UAE. Germany is the third largest supplier of Saudi Arabian imports. Saudi Arabia imports German products and services on a large scale. Germany's main exports to Saudi Arabia are machinery, motor vehicles and chemical products as well as electrical, precision engineering and optical goods.
In 2017, however, bilateral trade between Germany and Saudi Arabia decreased about 27 percent over the previous year to €7.3 billion.
SOURCE : ARABNEWS