First Full Friday Prayers At Two Holy Mosques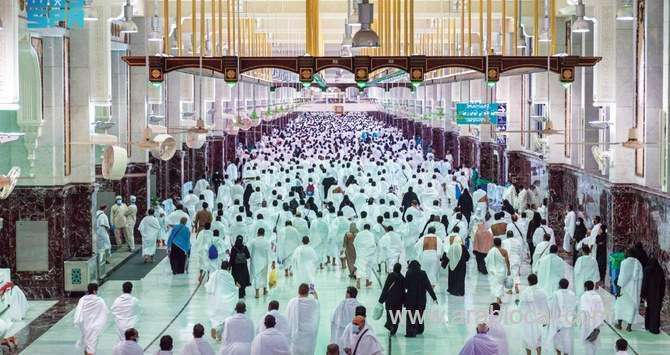 After more than a year and a half, Muslims worldwide were delighted to see Friday prayers at the Two Holy mosques return to full capacity.
Considered the two holiest sites in Islam, painful images of the mosques devoid of worshippers due to the onset of the COVID-19 pandemic in March of 2020 affected Muslims everywhere, but particularly citizens of Makkah and Madinah.
"It's a blessing, to walk in the mosque's pathways and you're surrounded by people again," said Abdullah Mahdi, a private-sector worker and longtime resident of the holy city. "Though masked still, it doesn't really matter, the place is alive with movement and worshippers again.
"It's truly a sight to behold and to see the Grand Mosque's courtyard around the Kaaba filled with people on the first Friday after the easing of the restrictions is a sign that it'll be alright, God-willing."
Last Saturday, the Ministry of Interior announced the easing of restrictions across the Kingdom, including those affecting the Grand Mosque in Makkah and the Prophet's Mosque in Madinah, which are returning to full operations and capacity.
Deputy Secretary-General for the Affairs of the Grand Mosque Dr. Saad bin Mohammed Al-Muhaimid told Arab News that the Presidency of the Affairs of the Two Holy Mosques had used all of their human and mechanical resources to implement the plan to return to full capacity.
"They did so through an integrated plan of capabilities and services that were harnessed to preserve the safety of the Grand Mosque's visitors and facilitate the performance of their rites in a spiritual, safe and reassuring atmosphere," he said.
"Based on the directives of the president of the General Presidency for the Affairs of the Two Holy Mosques, Sheikh Dr. Abdulrahman Al-Sudais, we have accelerated the pace of work and raised the level of readiness in an effort to provide the Grand Mosque's visitors with better services and means of comfort.
"We have also doubled our efforts since we started implementing the plan to return to full capacity while achieving the highest-quality standards."
The deputy secretary-general said that those working at the Two Holy Mosques had been asked to abide by and enforce the directives issued by the authorities concerned with fighting the coronavirus pandemic to ensure everyone's safety.
The ministry and authorities stressed the importance of visitors adhering to the directives included in the Interior Ministry's statement by wearing face masks at all times inside the Grand Mosque and booking their Umrah and prayer appointments through the official applications (Eatmarna and Tawakkalna).
SOURCE : ARAB NEWS