FGC Broadcast And Technology Business Honored By Belgium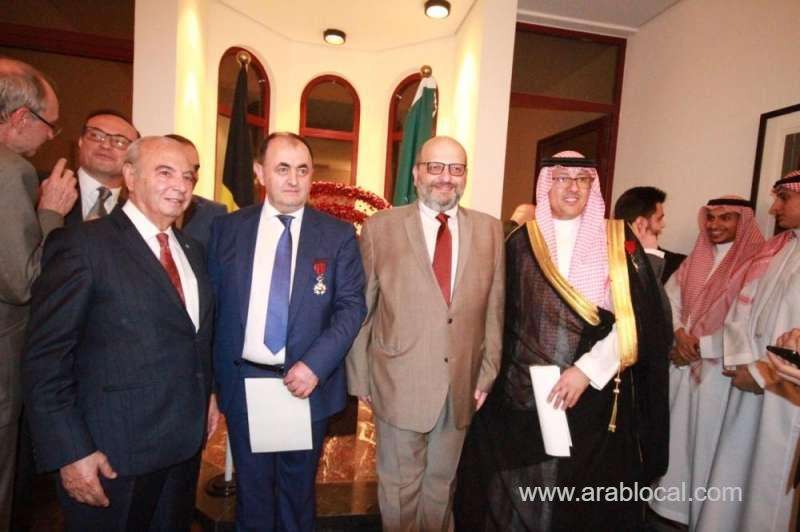 First Gulf Company, the Riyadh-based broadcast and technology business, has been honored by Belgium, with its two principals appointed Knights in the Order of the Crown.
Recognized for their continuous contribution toward economic relations between Saudi Arabia and Belgium, Naim Saidi, CEO, and Walid Al-Mouktar Al-Bakoush, general manager, were both presented with Chevalier de l'Ordre de la Couronne insignia by the Belgian Ambassador Geert Criel on behalf of King Phillipe at a ceremony in the Belgian Embassy. The event was attended by Ambassador Lebanon Dr. Fawazi Kabbara and several leading Saudi, Lebanese and Belgian businessmen.
In the accolade, FGC was acknowledged as a leader in the Kingdom's telecoms and broadcasting industry and praised for its work driving the modernization in this sector and in many of the country's leading educational establishments. Recently, FCG has also been a driving force in the construction of Etidal, one of the world's leading control centers in the global campaign against extremism on the Internet.
"For all your achievements and services rendered to my country, it has pleased His Majesty King Phillipe to honor you with the high distinction of Knight in the Order of the Crown. It is my honor to be able to give you this medal in the presence of your families, friends and colleagues," said Ambassador Criel, who also thanked the many Saudi and Lebanese business leaders for their presence at the award ceremony.
Saidi and Al-Bakoush were honored for building strong and prosperous partnerships with several Belgian companies, including Barco, EVS and Newtec. The ambassador praised them for their "professional achievements and generous contribution to the Belgian business community and the Belgian embassy".
SOURCE : SAUDIGAZETTE