Al Ahsa Records 3rd Highest Temperature In The World In The Last 24 Hours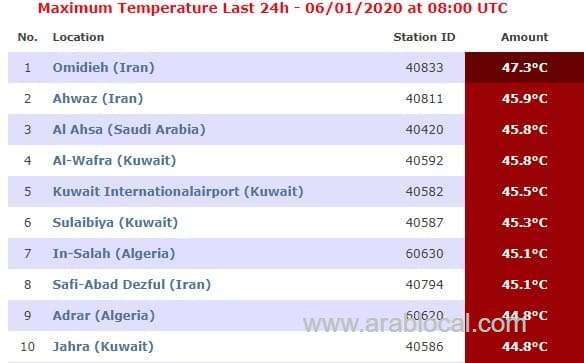 Saudi Arabia's Al Ahsa region recorded 45.8 degrees Celsius temperature, The 3rd highest temperature in the world in the last 24 hours, After Iran's Omidiah with 47.3 degrees Celsius and Iran's Ahwaz with 45.9 degrees Celsius temperatures.
The Professor of Climate at the Qassim University, Dr. Abdullah Al Misnad expected that Today's weather in Saudi Arabia will be stable and hot in most of the regions.
He said that their is possibility of some irregular rains, as a result of some clouds forming over parts of the Sarawat mountain range, pointing out that deep tropical depression centered over the southwest of Amman still affects these areas with moderate to heavy rains.
Maximum temperature in the last 24 Hours on 1st June 2020
1. Omidiah (Iran) - 47.3°C
2. Ahwaz (Iran) - 45.9°C
3. Al Ahsa (Saudi Arabia) - 45.8°C
4. Al-Wafra (Kuwait) - 45.8°C
5. Kuwait International Airport (Kuwait) - 45.5°C
6. Sulaibiya (Kuwait) - 45.3°C
7. In-Salah (Algeria) - 45.1°C
8. Safi-Abad Dezful (Iran) - 45.1°C
9. Adrar (Algeria) - 44.8°C
10. Jahra (Kuwait) - 44.8°C
SOURCE : SAUDI EXPATRIATES